Canucks Game Day: Preying on the Preds
The Vancouver Canucks host the Nashville Predators on Saturday, Nov. 5 at 7 p.m. Here are some news and notes ahead of the game.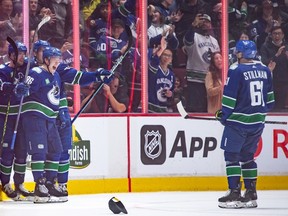 Article content
Nashville Predators (4-6-1, 6th in Central) at Vancouver Canucks (3-6-2, 6th in Pacific)
Article content
Saturday, 7 p.m., Rogers Arena.
Article content
TV: Hockey Night in Canada. Radio: Sportsnet 650
It's the final game of a four-game home stand for the Vancouver Canucks and the middle game of a five-game road swing through the Western Conference for the Nashville Predators.
These are two teams with playoff aspirations but who have struggled to get out of the gate this season.
The Canucks have won three of four after an ugly opening to the season where it took eight games for them to win their first.
The Predators won their first two games of the season, but that was over a month ago in Czechia, far from home. When they returned home, they lost five straight games.
Here are a few things to consider ahead of Saturday night's game:
Impotent offence, struggling goalie
Article content
The Predators are struggling to score. Their power play is running at just 14.3 per cent, fifth-worst in the NHL, and they're averaging just 2.73 goals for per game, sixth-worst in the NHL.
But they are coming in off a big 4-1 win in Calgary on Thursday.
Three of their four goals came from big names: Roman Josi, Filip Forsberg and Matt Duchene.
That's a good trend.
Their sputtering offence hasn't helped and their goalie has struggled. Juuse Saros has just a 89.8 save percentage so far this season. Backup Kevin Lankinen started on Thursday in Calgary after Saros was lit up for six goals in Edmonton on Tuesday.
The solution to their struggles seems obvious: get more saves and drive the offence.
Fixing the PK
Bruce Boudreau pulled J.T. Miller and Bo Horvat off the penalty kill completely for Friday's practise at Rogers Arena.
Article content
Gotta try something, he said.
Miller and Horvat are the team's best faceoff men, but that hasn't mattered on the PK. And neither has had an impact after the faceoff either.
With Elias Pettersson and Ilya Mikheyev now leading the line on the penalty kill, will that make a difference?
Line watching
Brock Boeser might play Saturday. He was hopeful. Boudreau was less so due to whether or not the scar from Boeser's wrist surgery has healed.
Boeser skated with Tanner Pearson and Sheldon Dries on Friday, swapping in and out on right with Conor Garland.
Garland, who had been on the Miller-Horvat line, was dropped to the third line and replaced by Nils Höglander, who was a healthy scratch again Thursday vs. Anaheim.
But the little Swede has been the Canucks' best forechecker this season and so lining him up with Miller and Horvat does make for some interesting potential. He's also a strong possession player, even if he's struggled to finish, which Miller and Horvat could use to help improve their two-way play.
Article content
Getting some saves and breaking out better
Thatcher Demko just hasn't been himself so far this season and the defensive structure in front of him hasn't helped.
A lot of that is down to how the Canucks have played when the Pettersson line isn't on the ice.
They've done a decent job of controlling the slot but they still need to be better.
And breaking the puck out better will help them play at the other end of the ice too, giving them more chances to shoot.
Getting enough shots has been a problem for this team and much of that is because of how they've struggled to exit the zone with control.