Stu Cowan: 'The Shift' epitomizes what Gallagher brings to Canadiens
"He knows what a sweater feels like in the washing machine now," head coach Martin St. Louis says after watching video from Minnesota game.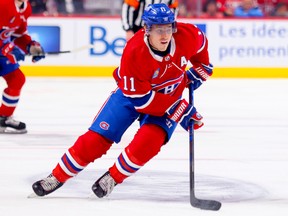 Article content
WINNIPEG — If Canadiens winger Brendan Gallagher has children and grandchildren one day and they ask what kind of hockey player he was, he can simply show them a video of "The Shift".
Article content
It came during Tuesday's 4-1 loss to the Wild in Minnesota and it was classic Gally.
Article content
The 16-second video clip of "The Shift" — as the Spittin' Chicklets Twitter account called it — shows Gallagher battling in front of the net with Minnesota defenceman Jared Spurgeon. Gallagher ends up getting cross-checked to the ice in goalie Marc-André Fleury's crease. Gallagher gets up to his feet and takes a whack at Spurgeon before racing back the other way to backcheck. As he gets to the blue line, Gallagher is cut off by two Wild players and gets knocked to the ice again by the second one, looking to the referee for a penalty call that never comes.
Again, classic Gally. He often doesn't get a call from officials despite being hammered like a piñata, but just keeps doing his thing.
Article content
I asked Gallagher after Thursday's morning skate in Winnipeg if he had seen the video and he flashed his Dennis the Menace grin.
"I saw it," he said with a chuckle. "I've been in there a few times. It's really hard when you're coming out of the zone and everyone's coming back this way. It's just hard to get out of there. But it happens, part of the game. I've played against Spurg going back to our junior days. Good player and it was a good battle."
Canadiens head coach Martin St. Louis also saw the video.
"He knows what a sweater feels like in the washing machine now," St. Louis said.
Great line.
"He's a competitor," St. Louis added. "He goes to the hard areas. He brings everybody into the fight. You need guys like that. Gally, some of the stuff he does sometimes, it's inspiring."
Article content
It certainly is — especially to his teammates.
Article content
"That's him," rookie defenceman Kaiden Guhle said. "He's got no quit in his game. I think he loves that stuff. He loves getting in the mix and being a disturber out there. Just shows what type of player he is and what type of person he is. He loves to get after it. It's awesome to see that kind of video. He takes a beating out there and he goes out the next day and does the exact same thing again. There's a reason he's been around here for so long and been a great player for so long. His work ethic … he never quits."
Gallagher is coming off a disappointing, injury-filled season in which he had 7-17-24 totals in 56 games. After a long off-season training with his father Ian — a longtime strength and conditioning coach — Gallagher is healthy and it shows. His hard work is paying off with plenty of scoring chances — he could have had three goals in Thursday's 3-2 overtime loss to the Winnipeg Jets — but he only has two goals after 11 games. If he stays healthy and keeps playing like that, the goals will surely start to come.
Article content
In Tuesday's game against Minnesota, Gallagher exchanged some words with Fleury, who had knocked Gallagher's helmet off his head when he crashed into the goalie's crease in the Canadiens' first game against the Wild this season — a 3-1 loss last week at the Bell Centre. Whatever Gallagher said to Fleury — which he wouldn't repeat when I asked — it made the goalie laugh.
"Going back to my rookie year, he always talks," Gallagher said about Fleury. "He's one of the more talkative goalies, so it's not chirping. He's almost too nice of a guy to chirp, so you just talk to him. It's more just friendly stuff and jokes."
Article content
I asked Gallagher if he actually enjoys the beating he takes on the ice.
"Of course," he said. "It's a part of the game — especially when you're behind. Just trying to push the envelope a little bit and find a way to get on the inside there. It's part of the game and it's a beautiful part of our sport, I guess. I feel like I'm capable of doing what I need to do on the ice (now that he's healthy)."
Gallagher said he has never set personal statistical goals. He believes if he plays his style of game the numbers will come.
"I don't like focusing on that stuff," he said Thursday morning. "If I did set a goal, I want to be in the lineup, I want to be a consistent player. And if I do those things, the big picture takes care of itself. It's off to a good start … it's only 10 games and there's a lot of hockey still to be played, but I feel good."
Even after the beating he took on "The Shift."