About Last Night: Habs close solid road trip with 3-2 OT loss to Jets
Joel Edmundson played 21:07 in his return to action after missing the first 10 games. Sam Montembeault stopped 33 of 36 shots.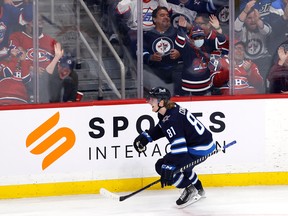 Article content
The Habs ended their four-game road trip with a 2-1-1 record.
Article content
The Brandon, Manitoba native, who missed the first 10 games of the season with a back injury, broke up the sextet that had manned the Habs blue line up until that point, with Chris Wideman sitting to make room. Evgenii Dadonov was placed on the injured-reserve list with an illness to open a roster spot for the assistant captain.
Sam Montembeault continued his stellar play to start the season, stopping 33 of 36 shots.
Cole Caufield and Nick Suzuki maintained their point per game pace in the first when the former set up the latter entering the zone. Suzuki zipped by Dylan DeMelo but Brenden Dillon hit him hard going to the net, but it was too late and Suzuki already roofed it. Habs up 1-0.
Article content
Pierre-Luc Dubois tied it up before the closing out the first. PLD had all kinds of space to step into a big wrister that beat Montembeault glove side. The power play marker made it 1-1.
Article content
The Habs and Jets traded goals in rapid succession in the second. First up, the Habs top line did it again. This time Kirby Dach was in the right place to tap in a Connor Hellebuyck rebound to give Montreal a 2-1 advantage. Apples to Suzuki and Caufield.
Article content
The Jets tied it up 41 seconds later. Blake Wheeler was parked in Montembeault's crease and potted the loose puck, but Habs coach Martin St. Louis challenged that it was goalie interference on Wheeler's part. Upon review, the goal stood and the Habs were assessed a minor penalty for the failed challenge.
Did Wheeler interfere or did Johnathan Kovacevic cross-check him into the goalie? The Liveblog commenters had some thoughts: "That looks like goaltender interference;""He did push him;" "It's never goalie interference when it would favour the Habs;" "You could argue, he prevents Monty from attempting the save." And finally: "I did not think it warranted a penalty on Wheeler, but I thought it should have been called back."
Article content
The third period solved nothing. In overtime, snakebitten sniper Kyle Connor, who scored 47 a year ago and was somehow scoreless in eight heading into Thursday, was due. His sixth shot of the game ended his drought and sent Jets fans home happy (and Bryan Adams) with a 3-2 overtime win.
Article content
Lots of individual performances for the Liveblog commenters to sink into. Montembeault continues to melt the hearts of even his biggest skeptics a year ago. Edmundson wasn't handled with kid gloves upon his return. Arber Xhekaj played a season-high 19:02 and laid down 10 hits, just three back of a team record held by … Charles Hudon? Is that a typo? Also, who was that barrelling in on the forecheck in the final minute of regulation? Jonathan Drouin, of course. He, Sean Monahan and Joel Armia showed chemistry. Could three of four lines be set for the next little while?
Even with Dadonov out, there's competition among the remaining forwards who haven't found dance partners yet. Drouin did his part to earn another game against Vegas on Saturday. Rem Pitlick, on the other hand, found himself in the penalty box twice. The commenters might be less forgiving than the Habs coaching staff, though.
3. "Total control of the puck during OT by Winnipeg. Oh well, 5 points out of a possible 8 on this road trip. I'll take it." — Michael Way
2. "In our revolving door of sittings, I think it's Pitlick next game." — Chris C
1. "Monty looks so much better positioned than last year. Squares up nicely to the puck. Maybe we have our future goalie already. Small sample size but I have more confidence in him than Jake or Primeau." — Ian London