Young Canadiens make costly mistakes in loss to Wild
Minnesota 4, Montreal 1. Kaprizov scores twice for the Wild, and Canadiens finish first 10 games with 5-5-0 record.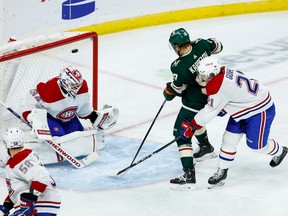 Article content
ST. PAUL, Minn. — The Canadiens hit the 10-game mark in the NHL season Tuesday night in Minnesota.
Article content
They didn't play great, but they weren't terrible, either.
Article content
The result was a 4-1 loss to the Wild that dropped the Canadiens' record to 5-5-0. The Wild improved to 5-4-1 after an 0-3 start.
Did anyone predict the young, rebuilding Canadiens would win five of their first 10 games — especially with veteran defencemen Mike Matheson and Joel Edmundson both sidelined since the start of the season?
I didn't think so.
Kirill "The Thrill" Kaprizov scored two goals for the Wild, while Mason Shaw and Matt Boldy added singles. Nick Suzuki scored a power-play goal for the Canadiens, who outshot the Wild 35-31. Jake Allen was in goal for the Canadiens and Marc-André Fleury for the Wild.
The Canadiens kept battling until the end, like they have done consistently since Martin St. Louis took over from Dominique Ducharme as head coach last season, but they ended up losing for the first time on this road trip after winning in Buffalo and St. Louis.
Article content
Last season, the Canadiens had a 2-8-0 record after 10 games en route to finishing with the worst record in the NHL (22-49-11).
After Tuesday's morning skate, St. Louis was asked to assess his team's performance so far this season.
"I'm just really proud of the guys just to find ways," he said. "There's no perfect games. Hockey's a game of mistakes and we make plenty. But our good is really good, too. I'm really impressed to me how good our good is. So I feel we're further along with that than I thought we would be. In terms of something that we need to get better at, I wouldn't say it's one specific thing. I think from game-to-game, the game speaks to us a little bit and we try to address where I feel is the biggest concern. But I wouldn't say it's one thing specifically."
Article content
The Canadiens made some mistakes against the Wild that cost them.
After a scoreless first period in which the Canadiens outshot Minnesota 15-7, Shaw opened the scoring for the Wild at 1:09 of the second when he was able to break away from defenceman Johnathan Kovacevic just enough to one-hand a rebound through Allen's legs.
Less than two minutes later, the Canadiens' Joel Armia took what turned out to be a costly goalie-interference penalty with Kaprizov scoring a power-play goal at 3:29, standing in front of the net and deflecting in a pass after getting in behind defenceman Kaiden Guhle.
Kaprizov made it 3-0 at 14:55 of the second after going in on a two-on-one with Marco Rossi after Guhle got caught up ice.
The Canadiens' young defencemen have played very well this season, but there are going to be nights with growing pains and this was one of them.
Article content
The Canadiens didn't give up and Suzuki scored his fifth goal of the season at 13:30 of the third period to cut the Wild's lead to 3-1. It was the third power-play goal for the Canadiens in the last two games after scoring only one in their first eight.
Boldy sealed the win for the Wild with an empty-net goal at 16:52.
"We've shown moments that we've been bad," St. Louis said before the game. "But what I like is we're not bad for a long time. We have a small amount of time in the game where we lose it, but we don't let it slip away. We bend, but we don't break. I think it's been important. When teams are surging on us and it looks like it's going bad I think we find a way to understand how important the next shift is and now we get a hold of it again and we start from there.
Article content
"When it's gone bad and you're down, well, now you start," the coach added. "That's how you build. You build throughout a game, you build throughout a season. There's nothing you can do about what just happened that was bad. You have half a period or half a game left and that's what we focus on. I think the group has been really good at doing that."
The Canadiens will wrap up their four-game road trip Thursday in Winnipeg against the Jets (8 p.m., TSN2, TSN3, RDS, TSN 690 Radio, 98.5 FM).
A win there would have them returning home with a 3-1 record on this trip.
Nobody would have predicted that.