Stu Cowan: Canadiens 'C' fits Nick Suzuki to a T
Defenceman Chris Wideman knew the 23-year-old would make a good captain, saying: "He does everything the right way — on and off the ice."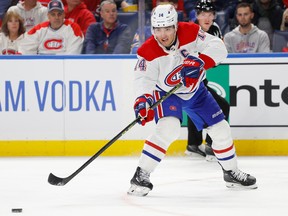 Article content
SAINT PAUL, Minn. — Near the end of last season, when the Canadiens were the worst team in the NHL, I had a nice chat in the media lounge at the Bell Centre with defenceman Chris Wideman, who was a healthy scratch for the game.
Article content
The media hadn't been allowed in the locker room for the second straight season because of COVID-19, so it was impossible to get a feel for what was happening in the Canadiens' room.
Article content
I asked Wideman if he thought Nick Suzuki was ready to be named captain of the team.
"One-hundred per cent," Wideman answered immediately.
The new management team was definitely leaning toward giving Suzuki the "C" but the only concerns were his age and the fact this is the first season of his eight-year, US$63-million contract. Was he ready to handle all that pressure?
Wideman believed he was and so did management.
At the Canadiens golf tournament in September, the Canadiens made it official that Suzuki would be the 31st captain in franchise history and also the youngest at 23.
Article content
The weight of wearing the "C" and his new contract — which will pay him US$10 million this season and has an annual salary-cap hit of US$7.875 million — haven't been a problem through the first 10 games of the season for Suzuki, who leads the team in scoring with 5-6-11 totals after scoring the only goal in a 4-1 loss to the Minnesota Wild on Tuesday.
Suzuki is averaging 19:33 of ice time per game — two minutes more than any forward on the team — plays on the power play, kills penalties, has a plus-4 differential and is winning 50.4 per cent of his faceoffs.
Head coach Martin St. Louis has been saying often recently that he wants "everyday guys" on his team — players who don't think they are more special than others — and Wideman says it describes Suzuki perfectly.
Article content
"Practice, games, he's a guy that we look to to play at a consistently high level," Wideman said after Tuesday's morning skate in Minnesota. "He just leads with his actions. He does everything the right way — on and off the ice. He's a great guy for not only our young players, but our veteran players to look up to and someone to follow. He deserved to be named captain and he's a guy that we're counting on every night."
As for handling the pressure on Suzuki wearing the "C" in Montreal, Wideman said: "Part of his demeanour is he's a very serious guy. He takes his work very seriously, but he's also laid-back. He knows how to kind of get away and free his mind and you need to be able to do that, especially in Montreal. He's done a great job and we're happy for him. Just thinking about him skating out with the torch (at the Bell Centre) for the first night, that was pretty special."
Article content
While Suzuki is the serious, laid-back guy, Cole Caufield is much more happy-go-lucky. They have become a dynamic duo on the ice — Caufield has 7-3-10 totals to rank second in team scoring — and great friends off the ice. Suzuki said they spend a lot of time together away from the rink and their conversations aren't only about hockey. The captain said they have been able to carry that off-ice chemistry and friendship onto the ice.
"Not only on the ice, but off the ice they don't compete for attention," Wideman said. "They're just two different people that fit so well together. On the ice, you see what they can do. Nick's an incredible playmaker and the way Cole shoots the puck, if he gets it in a Grade A scoring area, it's probably going in the net."
Article content
Suzuki plays the game with a pass-first mentality, while Caufield thinks shot-first, which makes them a good pair on the ice. Caufield described Suzuki's seeing-eye pass to him for a power-play goal in Saturday's 7-4 win over the Blues in St. Louis as "Spooky Suzuki."
Article content
"Sometimes you put two guys together and there's not enough pucks out there," head coach Martin St. Louis said. "I think one puck is plenty for those two — they understand each other's game."
During training camp, Wideman came up with a great nickname for the duo of Juraj Slafkovsky and Filip Mesar — the Canadiens' two first-round draft picks this year — calling them Batman and Robin because they were always together.
I asked Slafkovsky Tuesday morning if he could come up with a nickname for the Suzuki-Caufield duo.
"I don't know. Maybe Chris has something for them," Slafkovsky said with a big smile. "You need to ask him. He's the man, I'm not."
OK, Chris, you have a nickname for Suzuki and Caufield?
"Oh, man … nothing that I can say publicly," Wideman said with a laugh.
We can say publicly that Captain Suzuki has a nice ring to it.