Xavier Simoneau Shos Off NHL Talent In AHL Victory
The Montreal Canadiens had Friday night off as they prepared for a game in St. Louis after travelling from Buffalo where they defeated the Sabres on Thursday night.
But their affiliate in the AHL, the Laval Rocket were on the ice and dominated their divisional rival Rochester Americans. The Rocket started the season winning just one of their first five contests, but made it back to back wins with an 8-1 thrashing of the Americans.
Justin Barron scored his first two goals of the season, which was great to see, but it was another Habs prospect who really stood out and showed all the tools he possesses that will ensure he becomes an NHL player in the near future.
Canadiens Prospect Xavier Simoneau Proving To Be Future NHLer
Xavier Simoneau was a 6th round draft pick of the Canadiens in the 2021 NHL Draft. Though he was a highly skilled forward and a point producer from a young age in the QMJHL, Simoneau was passed over in two NHL Drafts. The only possible reason he would have been passed over was his size.
Simoneau is listed at 5'6″ on the Rocket's website, but is no pushover at 183 pounds. He is basically built like Canadiens head coach Martin St. Louis. While they are not tall, they are hard to knock off the puck because they have so much muscle packed into that smaller stature.
Simoneau proved that his height was not going to slow him down in the Rocket win last night. He dropped the gloves with Americans winger Brett Murray who happens to be 6'5″ and 227 pounds. That's essentially a full foot taller than Simoneau who didn't exactly pull off a David vs Goliath win, but held his own and showed he wasn't going to be scared off by anyone.
Xavier Simoneau is giving up close to a foot to Bretty Murray, he still chose to fight him. pic.twitter.com/PHFlv11u8i

— Scott Matla (@scottmatla) October 29, 2022
A couple of minutes after stepping out of the penalty box, Simoneau was on the ice for a Rocket power play. Though he is the shortest player on the ice, he did what he normally does, which is to drive straight to the net like he is 6'6″.
He was rewarded for his positioning and determination by a perfect pass from Jesse Ylonen and Simoneau, who was basically behind the goaltender but still in a passing lane, redirected the puck into the net.
SIMI 😁#GoRocket https://t.co/QLYiTNg1p9 pic.twitter.com/LXdCLi3Nbo

— Rocket de Laval (@RocketLaval) October 29, 2022
Later in the game, Simoneau had the puck high in the offensive zone and made a quick no-look behind the back pass to Corey Schueneman who was jumping in from the blue line. Schueneman wired home a wrist shot to give the Rocket an insurmountable 6-1 lead in the third period.
🙌🙌🙌#GoRocket https://t.co/AtjZhGEhPq pic.twitter.com/nYIxotO23q

— Rocket de Laval (@RocketLaval) October 29, 2022
It was just one game, and a blowout at that, but in putting together a Gordie Howe hat trick Simoneau was able to prove he has all the tools to succeed at the NHL level.
His size will always be a drawback people point to but he dropped the gloves with a 6'5″ behemoth, he drove the net like a power forward and showed off nice hands to redirect the puck into the net. He has crazy vision and playmaking skills and it was on display on the Schueneman goal.
Simoneau was a 6th round pick after being completely passed over twice in NHL Drafts. The solitary reason for not taking him was his size, but he has put those worries to rest in his first pro season and will be plying his trade in the NHL before long.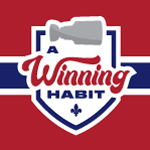 Want your voice heard? Join the A Winning Habit team!