Juraj Slafkovsky Deserves Shot On First Line
The Montreal Canadiens pulled off a win over the Buffalo Sabres in their last game out and it improved their record to 4-4-0 on the season.
They have shown some glimmers of hope and lots of reason to believe the team can be strong in a few years and is building in the right direction with the young players on the roster. Two of the best examples of that are the dynamic duo of Nick Suzuki and Cole Caufield.
The pair of young forwards are leading the team offensively and look like they will be the team's top scoring threats for many years to come. While they make a terrific pair, finding the right third player for that line has proven difficult.
Canadiens Juraj Slafkovksy Deserves First Line Chance
The season began with Josh Anderson joining Suzuki and Caufield, which was a trio for much of the second half of last season. We have since seen Sean Monahan and most recently Mike Hoffman earn an audition as first line wingers as well.
None of them have really stuck and played so well that they needed to stay on that line. Hoffman doesn't seem like the best fit either so the search is sure to continue.
If the Canadiens can't find a perfect partner for Suzuki and Caufield, giving Juraj Slafkovksy a look on the first line would make sense. Of course, he is injured and has missed the past three games, but when he is healthy he should be the next player on the Canadiens first line.
Slafkovsky was the first overall choice in last summer's NHL Draft. He didn't dominate training camp but got better as it went along and was good enough to make the team to begin the regular season. He has mostly played a third line role in the five games he did play, and looked to be improving as the games went along.
In his most recent game, before being injured, Slafkovksy scored his first NHL goal. Well, he scored against the Arizona Coyotes, but that does count as an NHL goal.
The big Slovakian left winger is still not locked on the Habs roster for the whole season. He could, and it sounds like he will, be sent down to the Laval Rocket at some point.
But first, he should really be given a chance to see if he can click with the team's two best offensive players. Slafkovksy was not drafted to step into the NHL as a teenager and dominate, but he was chosen to become a big part of this team in 3-5 years and for many years after that.
But what is he is ready for a big role right now? What if he just needs some creative playmakers and a fantastic goal scorer on his line to bring out the best in his game? I mean, who wouldn't benefit from being on the ice with Caufield every night?
Slafkovksy showed in a short time that he is a big, fast, skilled winger with really good vision on the ice. There are plenty of kinks to iron out and imperfections to tweak but the 2022-23 Canadiens are filled with kinks and blemishes that need to be fixed.
There is a very good possibility the Canadiens future first line includes Suzuki, Caufield and Slafkovsky so why not give them a few games together to see how they do right now?
No one else has grabbed the first line role and ran with it, so before Slafkovksy is sent down for not producing enough or showing enough at the NHL level, he needs to be given the best opportunity to show what he can do at the NHL level.
That would be on a line with the team's two best offensive players. If he looks great, keep him there longer and if he doesn't look ready for that kind of a role let him play 20 minutes per night with the Laval Rocket for a while. It is a no-lose situation for everyone with the possibility of a high reward if it clicks.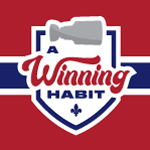 Want your voice heard? Join the A Winning Habit team!