Stu Cowan: Canadiens gamble on risks having long-term rewards
"Everything's fixable and that's really refreshing coming from a coach because it is an emotional sport," Jordan Harris says of mistakes.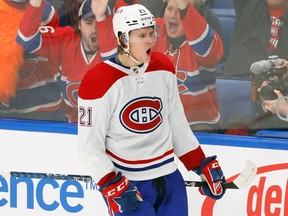 Article content
ST. LOUIS — Hockey is a game of mistakes.
Article content
It's also a game of calculated risks.
Article content
Those are two things Canadiens head coach Martin St. Louis is stressing as he looks to rebuild what was the worst team in the NHL last season.
Rookie defencemen Kaiden Guhle and Jordan Harris are both averaging more than 20 minutes of ice time per game. They're going to make mistakes and St. Louis doesn't want them to worry about miscues. Instead, he wants them to learn from those mistakes.
"I think it comes with experience and how important it is to calculate the risk that you're taking," St. Louis said last week. "You can't just take risk. It's got to be calculated why you're taking this risk right now. It's not necessarily risks … but I think every player should have a little calculated risk and I think Jordan's managing that right now. With him and Guhls, they're able to support the offence but also get back pretty quick if it doesn't work out."
Article content
Harris said St. Louis and assistant coach Stéphane Robidas both want the defencemen to not always look for the safe play and instead look for open lanes.
"It's kind of a fine line between making the safe play and maybe delaying half a second," Harris said after a recent practice. "I feel like young guys — especially with me — you don't realize how much time you have and that comes with reps and experience and really trying to slow it down and making the right play. It's definitely one of those things that comes along with learning the system and learning where guys are going to be and not just throwing the puck away. Everything we do is with such a purpose and you don't want to throw the puck away."
Harris added that his confidence is growing with each game.
Article content
"When you come up right away (to the NHL) it's all about adrenaline and instincts," he said. "You might make the right play, but you might not know why it was the right play. Now, I'm starting to understand what the right play is and at what time. Timing, especially off our set breakout, you have to wait for the right time and the forwards to swing. Just understanding the purpose behind things."
St. Louis believes in concepts instead of systems and Harris described it as a more mature way to play the game while letting the puck do most of the work.
"We don't have a ton of set plays or if the puck's here, you have to be here," Harris said. "It's good the way (St. Louis) describes things because he always has the reasoning behind it. It's really interesting. Sometimes if I make a mistake, I'll think about the mistake. But he'll say: 'You made the mistake because of this reason,' and that's really interesting. It takes a little bit of the emotion out of it. It's really nice the way he thinks about things and it's really logical. Everything's fixable and that's really refreshing coming from a coach because it is an emotional sport. But the way he sees it, it's logical and that helps a lot as a player because you know you might make a mistake, but it's fixable."
Article content
Defenceman Johnathan Kovacevic, claimed off waivers from the Winnipeg Jets before the start of the season, likes how Robidas is very supportive and positive and "knows the game so well" after playing 15 seasons as an NHL defenceman.
During a game last week against the Pittsburgh Penguins, which the Canadiens won 3-2 in OT, Kovacevic said that in the first period he was skating up the neutral zone and made a play up the boards, which he described as "not the worst play." He got to the bench and Robidas told him to look for the seam, which had been open. Later in the period, Kovacevic was in a similar situation and again made the safe play up the boards. He got the same message from Robidas.
In the second period, in a similar situation, Kovacevic spotted Brendan Gallagher open in the seam and hit him with a pass that led to a scoring chance. When Kovacevic returned to the bench Robidas had a big smile on his face.
Article content
During a 3-1 loss to the Minnesota Wild this week, Kovacevic was skating with the puck in the neutral zone and instead of making the safe play up the boards he made a backhand pass toward Gallagher into a seam that ended up not being open. The Wild intercepted the pass and went in to score what turned out to be the winning goal.
Kovacevic took a risk and made a mistake.
The key is that he learns from it. That's what this season is all about as the Canadiens look to rebuild and develop their young players.