Credit the Kraken: Seattle's now a hockey town with NHL's arrival
New team on the scene spurred construction of new ice sheets, inspired new players, boosting interest in the game among 'kids' of all ages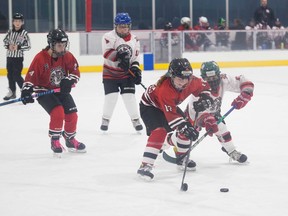 Article content
But it's not one that was a regular scene in the city of Seattle. There have been junior teams over the years. The Seattle Metropolitans did win the Stanley Cup more than a century ago, in 1917.
Article content
And there's long been a smattering of minor hockey programs. But rarely did one think of "Seattle" and "hockey" in the same sentence.
Until last fall, though there were a few rinks in the surrounding suburbs, there were no sheets of ice in the city itself. That had been true for 40 years.
But in September 2021 the three-rink Kraken Community Iceplex in Northgate opened, days ahead of the National Hockey League expansion Seattle Kraken's first training camp.
It's now home to a host of teams, from youth playing in Kraken-sponsored teams to adults playing both rec and learn-to-play leagues.
Article content
There's the long-standing Washington Wild female hockey program, too.
Renee Carmichael plays for the Wild Under-11 team.
"I like the teamwork," she declared after a practice this week.
"I never really thought I'd play hockey, and then I watched Mighty Ducks."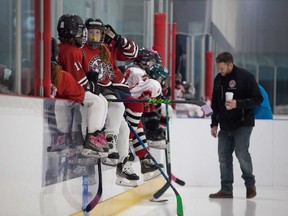 And then along came the iceplex.
The delight on the nine-year-old's face brings a big smile to the face of her dad, Brad. Originally from Nanaimo, Carmichael moved to New York City for work and met his now wife.
The couple moved to Connecticut where they started a family — Renee's older sister Scarlett is 11 — and the girls got their first exposure to skating.
When they moved to Seattle half a decade ago, the girls tried out a slew of sports: Soccer, baseball, you name it. While Scarlett has taken to soccer, Renee has truly found her home with hockey.
Article content
And the opening of the new rinks, near to the Carmichaels' family home in Shoreline, was a big factor, dad says.
"The Wild do a try hockey for free thing. Show up we'll give you the gear. No pressure," he explained. "The older players help teach skating. That turned Renee on to it. Then she moved up to a camp."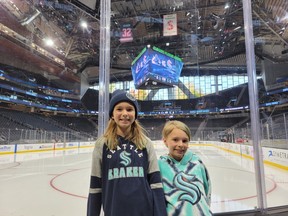 This year she has joined a team full time and is on the ice five days a week, having a blast each time she hits the ice.
David Sheldon is another parent on the team. His daughter Emma has been skating since she was five. They used to head to an old arena in Highland to skate.
The opening of the Iceplex couldn't have come at a better time, he said, with the Highland rink set to close and be redeveloped into a condo complex. The new iceplex's facilities are much nicer and it's also much closer to the family's home.
Article content
"Nice to have a rink with a Starbucks in it, too," he quipped.
Sheldon is originally from Chicago and while he didn't play hockey in his youth, he was a fan. When he moved to Seattle about two decades ago, he joined a learn-to-play program.
He met his wife on a co-ed team run by the former Greater Seattle Hockey League. Sheldon said the GSHL was one of the biggest rec programs in the United States, which surprised him since he'd never thought of Seattle as a hockey city.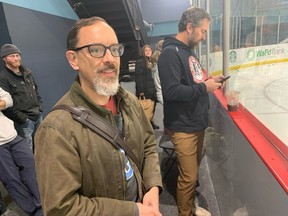 The Kraken bought the GSHL and the league, which still operates at other rinks around the Greater Seattle region, is now based at the Iceplex.
"It's incredible how many teams have joined since," he said.
The Kraken starting up has indeed energized hockey in the region, Rob Azevedo, president of the Pacific Northwest Amateur Hockey Association, said in an email. The pandemic wreaked havoc with registration numbers over the previous two seasons, but Azevedo was comfortable saying that enrolment is up across the board in the state, with female hockey up the most.
Article content
He called the Kraken a wonderful partner.
"They are very supportive in growing our youth programming within this region. The Jr. Kraken Association has taken a grassroots approach to building their own youth program, by focusing on the learn to play hockey and skill development up to the 12U age group," he said.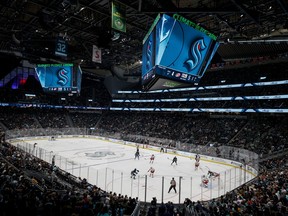 That Seattle could make it as a hockey town has come as a surprise to Jed Paik.
Paik went to the University of New Hampshire. He saw how passionate a college hockey town can be.
He's lived in Burnaby, and saw what an NHL city is like.
With Seattle's vibrant sports culture being driven by the Seahawks, the Mariners, the Sounders and Huskies, Paik just didn't see any space for NHL hockey to fill.
"Hockey has been way bigger than I expected," he said. "I thought it wouldn't survive. It's not cold. We've never had hockey."
Article content
But working at a downtown Seattle hotel, not far from Climate Pledge Arena, the home of the Kraken, has opened his eyes to how many fans there are in the state.
Fans have travelled from outside Seattle for games. Paik said there's no doubt the Kraken are bringing fans to town, which is of course good for the hotel business.
"I didn't know that many people were eager to watch," he said.
Tim Pipes, owner of the Angry Beaver, a Canadian- and hockey-themed bar in north Seattle, said the Kraken have had as positive an impact as you could hope for.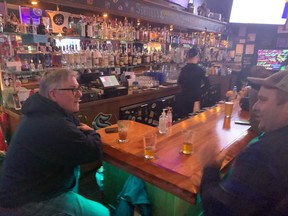 His bar has long been a place for hockey fans to congregate, a place to watch whatever game they wanted.
"On Kraken game days I'm seeing way more people," Pipes said. "It's working."
It all boils down to, in Carmichael's eyes, one simple thing.
Article content
"It's a sports fan city," he said.
"In New York, there's no consolidated fan base. Lots of people are from elsewhere.
"Here, there's an element of Seattle fans are just fans of Seattle teams."
---
More news, fewer ads, faster load time: Get unlimited, ad-lite access to the Vancouver Sun, the Province, National Post and 13 other Canadian news sites for just $14/month or $140/year. Subscribe now through the Vancouver Sun or The Province.