Stu Cowan: Canadiens fan favourite Arber Xhekaj learns on the fly
The 6-foot-4, 238-pound defenceman is not afraid to drop the gloves, but he has shown he's much more than just a tough guy.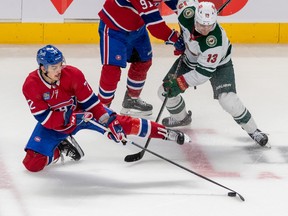 Article content
Arber Xhekaj is still adjusting to his sudden fame as a member of the Canadiens.
Article content
"It feels pretty special and it is sometimes pretty weird," Xhekaj said after practice Wednesday in Brossard. "Sometimes people will catch me off-guard staring at me and I'm not sure what these guys are looking at. They're trying to figure out if it's really me or not. It's pretty funny because they'll just be staring at me and I'll be like: Do I have something on my face, or what?"
Article content
"I like when the kids notice me," Xhekaj added. "It's just been good to be that popular guy. It's always fun."
Most Canadiens fans didn't know much about Xhekaj when training camp started. He was never selected at the NHL draft, but he earned the nickname "Sheriff" while playing junior with the OHL's Kitchener Rangers and Hamilton Bulldogs because of his rugged style of play and his willingness to fight.
Article content
The 6-foot-4, 238-pounder has already shown he's not afraid to drop the gloves in the NHL, beating up veteran NHL tough-guy Zack Kassian during a 6-2 win over the Arizona Coyotes last Thursday at the Bell Centre.
"I got a lot of attention for that," Xhekaj said. "I just put a bounty on my head for the other guys and kind of put myself on the radar for the other big guys in the league."
Xhekaj won't hesitate to defend his teammates, but he has shown he's much more than just a tough guy. His Canadiens teammates have given him a new nickname, Wi-Fi, because his name looks like a sign-on password.
Canadiens assistant Stéphane Robidas, who coaches the defencemen, watched Xhekaj play at the Memorial Cup last season with the Bulldogs, but admits he didn't know a lot about him coming into training camp this season other than the fact he was big and tough.
Article content
"We all knew he's tough and he can be physical," Robidas said Wednesday when he spoke with the media after practice. "But his skating ability and his poise with the puck … he's made some really good plays on transition, on breakouts. Offensive zone, he scored a nice goal the other day. I think he's been a pleasant surprise, that's for sure.
"I think he's kind of unique," Robidas said when asked if he could compare Xhekaj to anyone he played with or against during his 15-year NHL career. "It's hard to compare. I played with Sheldon Souray, who's a bigger guy, tough, really good shot. But I think Arber is probably a better skater. Moves probably better than Sheldon."
The Bell Centre crowd went wild after Xhekaj rag-dolled Kassian during their fight and there was another roaring ovation after his first NHL goal the next game in a 5-2 loss to the Dallas Stars. When Xhekaj was announced as part of the starting lineup for Tuesday's 3-1 loss to the Minnesota Wild, he received another loud ovation.
Xhekaj brings back memories of Chris Nilan with the Canadiens — a tough guy who was always willing to defend his teammates, but could also play hockey, scoring 21 goals during the 1984-85 season. Xhekaj got to meet Nilan Monday night when the Canadiens held a dinner at the Bell Centre for season-ticket holders with current and former members of the team.
Article content
"I sat with him all dinner and we got to talk all dinner and it was pretty nice," Xhekaj said. "He's got a great story. He wasn't the biggest guy, but he's definitely one of the toughest. Three-thousand penalty minutes, he said, and he said there's only nine guys with that. So it's pretty good to chat with a guy who was a tough guy in that era because it's a whole different thing. I took some advice from him and he told me what he thought about the fight (with Kassian) and all kinds of stuff like that. It was good."
There are going to be some growing pains for Xhekaj and he had a couple in Tuesday's loss to the Wild. He had a tough first period and then got sucked into taking a questionable roughing penalty against Ryan Hartman in the second period with a delayed penalty already called on the Wild.
Article content
"I know when the ref has his hand up you can't do anything because they're just looking to even it up," Xhekaj said. "I made a mistake there. Mistakes are going to happen and moving forward it won't happen again."
Xhekaj is proving he can play in the NHL with 1-2-3 totals in his first seven games, along with a plus-2 differential while averaging 15:11 of ice time. He's also quickly becoming a fan favourite.
"I'm feeling the love, for sure," he said. "When I'm walking around, I got cars honking at me, people cheering for me. It's definitely pretty cool to be kind of popular here."