Shane Wright Struggles Keeping Draft Debate On Back Burner
The Montreal Canadiens won the 2022 NHL Draft Lottery and it seemed like a guarantee at the time that they would select Shane Wright.
He was the consensus first overall choice after achieving exceptional status in the OHL and having a stellar Junior career with the Kingston Frontenacs. Most draft experts had Wright atop their rankings, but a late push came from Juraj Slafkovsky.
Of course, we know now that Slafkovsky went first overall to the Canadiens, and Wright fell to the Seattle Kraken at fourth, which was a bit of a surprise to many. The big skilled winger was great at the Olympics and World Championships, but had just ten points in 31 Liiga games in Finland.
Canadiens Pick Avoiding Extra Scrutiny Due To Wright's Struggles
Ultimately, the Canadiens went with the European who was so great in tournaments against professionals when he was just 17 years old. It was not a bad choice, but a riskier one considering everyone thought Shane Wright was going first overall for the past four years.
That opened Canadiens general manager Kent Hughes up for naysayers. If this pick doesn't work out, everyone will use their 20/20 hindsight and question what the heck was Hughes thinking when he didn't take Wright?
Well, those questions can be put on hold, at least for now. While Slafkovksy has not been dominant in his first taste of NHL action, he has shown plenty of promise in a small sample so far.
Meanwhile, Wright is barely showing anything for the Seattle Kraken. He has played just five of their seven games, sitting as a healthy scratch twice. In those five games, he has just one assist, and played a high of just 8:42 against the Colorado Avalanche on Friday night.
The Kraken played a tight game with the Chicago Blackhawks on Sunday and Wright was on the ice for just 5:51. He is averaging 6:51 per game which is just a little more ice time than the snow shovelers who come out during TV timeouts get.
If Wright started the year with two goals and five points in those five games, the internet would be going wild and taking shots at Hughes for not picking Wright.
Obviously, this debate will go on for years and we will have no idea who the right choice was for another decade. But, it is fun to keep track of players you liked in their draft year and thought the Canadiens should have taken. A lot of Habs fans thought Wright was the top choice, so we will be keeping one eye on him for the next number of years.
Slafkovksy sure looks like he could be an impact NHL player down the road. No one is complaining about the pick today, and part of that is because Wright is having so much trouble adjusting to the NHL.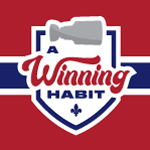 Want your voice heard? Join the A Winning Habit team!