NHL Power Rankings: Early overreactions for every team
This is the first in-season edition of theScore's NHL Power Rankings for the 2022-23 campaign. Check back for updated rankings every other Monday during the regular season.
In this edition, we offer an early overreaction based on each team's performance.
1. Calgary Flames (4-1-0)
Preseason rank: 4
The Flames are the Western Conference's undisputed champions. Calgary has started the campaign spectacularly and already beaten some of its rivals for the crown in the Oilers, Avalanche, and Golden Knights. No one can take that away from the Flames, but there are still plenty of games left.
2. Pittsburgh Penguins (4-0-1)
Preseason rank: 9
The early, torrid pace of the Penguins' offense is sustainable. Betting against Sidney Crosby and Co. is rarely wise, but Pittsburgh leads the league with 5.2 goals per game. The Penguins have scored six goals in four out of their five contests. Terrifying? Yes. Tenable? Probably not.
3. Boston Bruins (5-1-0)
Preseason rank: 10
Reports of the Bruins' death were greatly exaggerated. Heading into the season, it wasn't irrational to think Boston might struggle due to long-term injuries to some key players. But the Bruins haven't really missed a beat. It remains to be seen whether that's sustainable.
4. Carolina Hurricanes (3-1-1)
Preseason rank: 3
Martin Necas' true breakout season has begun. The Hurricanes forward would've produced 64 points had the abbreviated 2021 campaign been the typical 82 games. After posting only 40 over 78 contests last season, he's off to a flying start in 2022-23 with three goals and four assists in the first five.
5. Colorado Avalanche (3-2-1)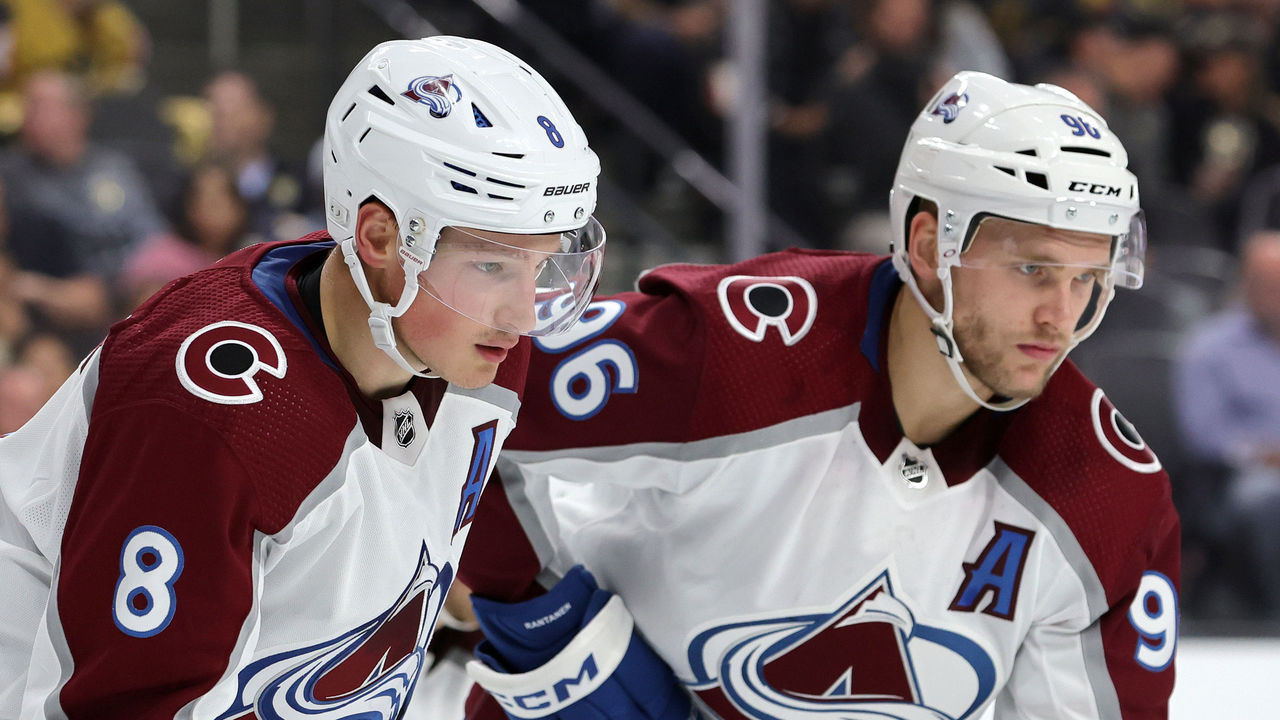 Preseason rank: 1
The Avalanche have the best power play ever. There's an obvious caveat that Colorado has played only six games, but the club has converted nine of 17 opportunities (52.9%) on the man advantage. Valeri Nichushkin has scored four of them. For those wondering, the 1977-78 Montreal Canadiens hold the NHL record at 31.9%.
6. Florida Panthers (4-1-1)
Preseason rank: 7
The Panthers are fine after giving up a king's ransom to get Matthew Tkachuk. Many believed Florida would take a step backward after giving up Jonathan Huberdeau, Mackenzie Weegar, prospect Cole Schwindt, and a first-round pick in the offseason's biggest trade. That might still happen. But for now, the Cats and Tkachuk – who leads the team in scoring – are looking good.
7. Dallas Stars (4-0-1)
Preseason rank: 17
Jake Oettinger is the Vezina front-runner. This may not hold up as the season rolls on, but the Stars goaltender has been nearly unbeatable so far. Oettinger is 4-0-0 with a sparkling .959 save percentage. He also ranks in the top five in both GSAx and GSAA at five-on-five.
8. St. Louis Blues (3-0-0)
Preseason rank: 12
The Blues may never lose again. Sure, St. Louis has played in three games – the least amount in the league – but did it lose any of those contests? Nope. An 82-0-0 season is surely coming.
9. Toronto Maple Leafs (4-2-0)
Preseason rank: 5
Ilya Samsonov has erased any questions about the Leafs' goaltending. After getting non-tendered by the Washington Capitals this past offseason, Toronto inked the 2015 first-round pick to a one-year, $1.8-million contract. It's looking like one of the best signings of the summer. The 25-year-old is 4-0-0 with a .938 save percentage.
10. Vegas Golden Knights (4-2-0)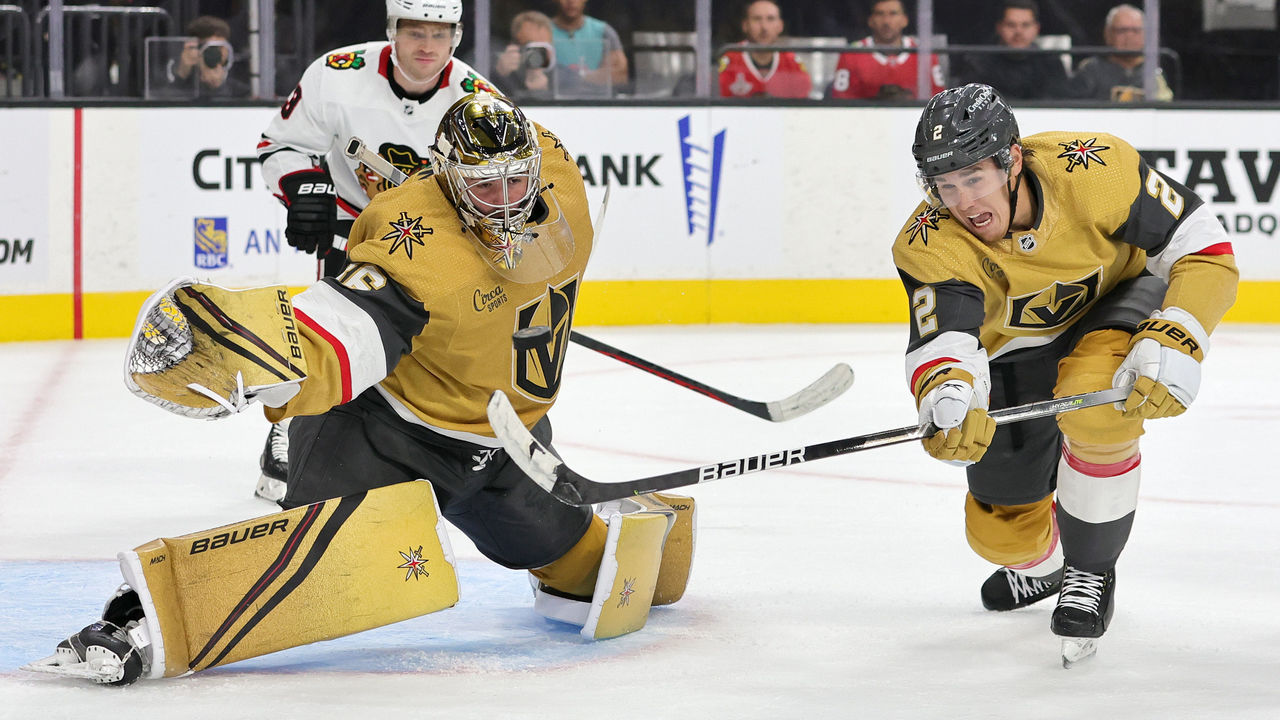 Preseason rank: 16
Logan Thompson will be a name to watch at the NHL Awards. That's right, Thompson is coming for the Calder Trophy and Vezina. The Golden Knights rookie is having a spectacular season in Sin City, ranking among the top-10 goaltenders in GSAA (2.81) and GSAx (2.56) at five-on-five.
11. New York Rangers (3-2-1)
Preseason rank: 8
Igor Shesterkin's Vezina season was an outlier. This one is a stretch, but the Rangers goaltender hasn't been his elite self to begin the campaign. He's 3-0-1, but with a .901 save percentage and subzero figures in GSAA and GSAx at five-on-five. New York has played relatively well despite that, and no one will be shocked if (when) Shesterkin rounds into form.
12. Tampa Bay Lightning (3-3-0)
Preseason rank: 2
The Lightning are starting to lose some of their luster. Anyone who's followed hockey over the last few seasons knows the Bolts save their best for the playoffs, so jumping to conclusions based on six games isn't prudent. But it's mildly concerning that Tampa Bay ranks in the middle of the pack in goals for and goals against per game and in expected goals for percentage.
13. Buffalo Sabres (4-1-0)
Preseason rank: 25
The Maurice "Rocket" Richard Trophy belongs to Rasmus Dahlin. The Sabres defenseman owns the longest season-opening goal streak by a blue-liner with five tallies in five games. He'll score 82 easy-peasy if he keeps that up. We see no problems with this logic.
14. Edmonton Oilers (2-3-0)
Preseason rank: 6
This is who Jack Campbell is. The Oilers clearly expected more out of the goaltender when they signed him to a five-year, $25-million deal over the summer. Edmonton should've foreseen some inconsistency from Campbell, whose underlying numbers were among the NHL's worst last season. But a .889 save percentage in his first four games leaves something to be desired.
15. Ottawa Senators (3-2-0)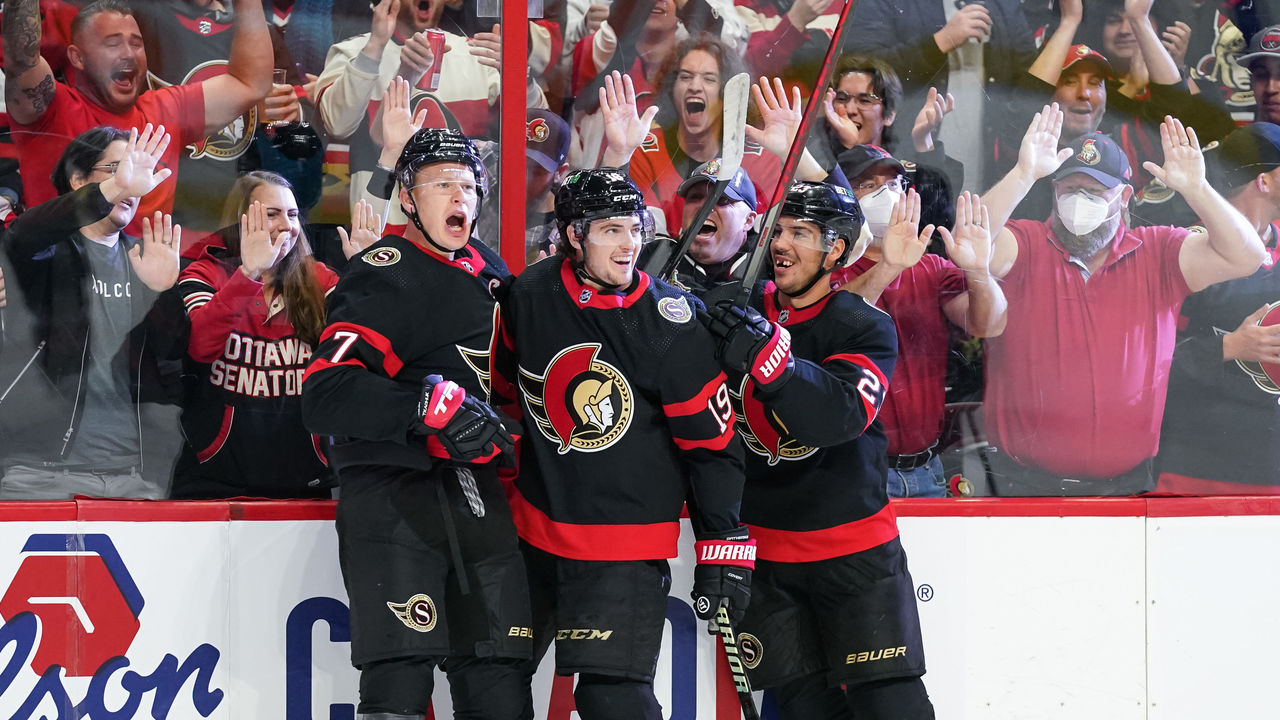 Preseason rank: 20
The Senators could be a playoff team. Even after the "Summer of Pierre," Ottawa's upgrades and promising core didn't make the club a lock for the postseason. A playoff berth for the Sens still seems unlikely, but this squad has looked good in the nascent stages of the campaign. This suddenly isn't so far-fetched.
16. Philadelphia Flyers (4-2-0)
Preseason rank: 30
John Tortorella has a legitimate shot at winning the Jack Adams Award. Few would've predicted the Flyers would be this good out of the gate. Their new head coach deserves some credit for the strong start. Philadelphia could still end up as one of the league's worst teams, but that's not the case through six games.
17. Washington Capitals (3-3-0)
Preseason rank: 14
Alex Ovechkin has lost his touch. Despite leading the Capitals with 22 shots, the legendary marksman has converted a mere 9% of his attempts on target. If only there were 18 years of evidence to suggest he's due to breakout.
18. Detroit Red Wings (3-0-2)
Preseason rank: 23
Give Steve Yzerman the GM of the Year award already. Free-agent signings David Perron, Andrew Copp, Dominik Kubalik, and Ben Chiarot are fitting in superbly with their new team. They're providing the Red Wings with the veteran infrastructure needed to support the young core.
19. New Jersey Devils (3-2-0)
Preseason rank: 19
Lindy Ruff is safe. The veteran coach has changed the minds of Devils fans who booed him to start the season. He's bound to stick around thanks to a tidy three-game win streak.
20. Los Angeles Kings (3-4-0)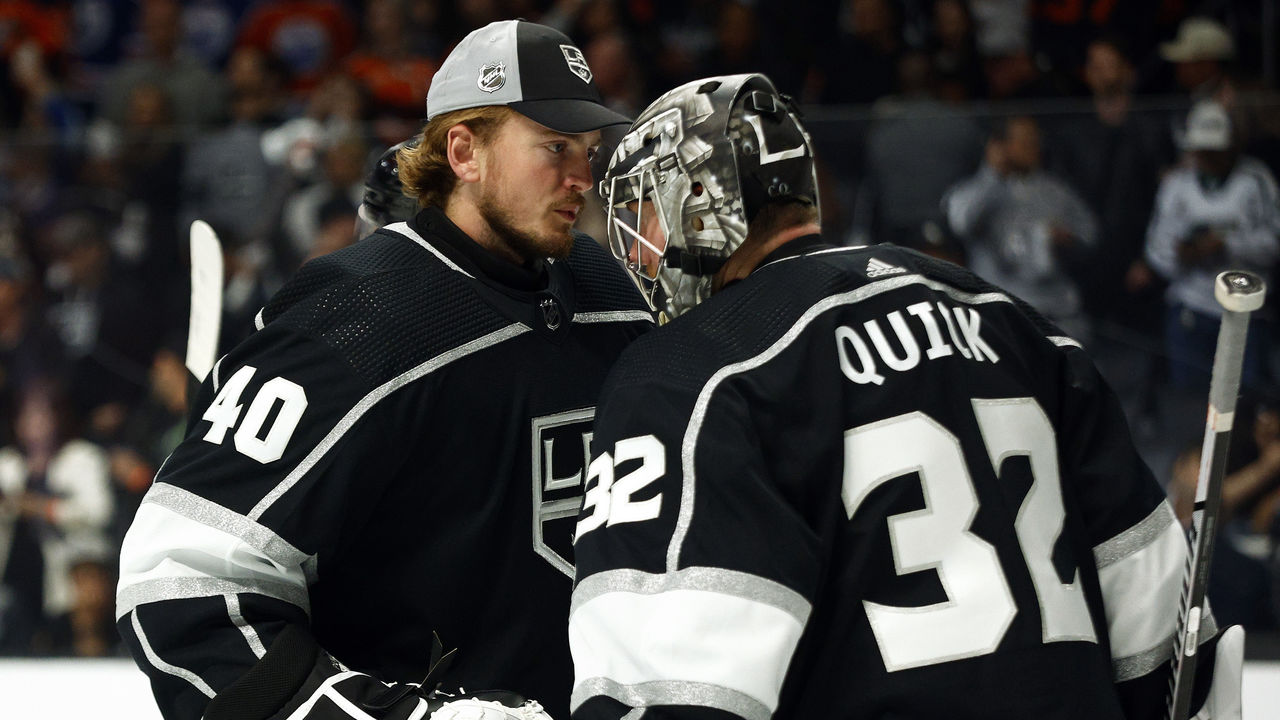 Preseason rank: 13
The goalies are doomed. Cal Petersen and Jonathan Quick are sporting .842 and .889 save percentages, respectively, this season, derailing the momentum the Kings built during a promising playoff showing last season.
21. Nashville Predators (2-4-1)
Preseason rank: 15
Playing in Prague ruined the Predators. Nashville hasn't won a game since downing the Sharks in back-to-back contests overseas. Jet lag must be a hell of a thing (and it must last a couple of weeks).
22. Minnesota Wild (1-3-1)
Preseason rank: 11
Marc-Andre Fleury is washed. OK, we'd be foolish to write off the future Hall of Famer this early, but Father Time catches up to everyone eventually. The 37-year-old owns a .847 save percentage and a 5.25 goals-against average in four games.
23. New York Islanders (2-4-0)
Preseason rank: 22
No amount of money can get Mathew Barzal to find the back of the net. Even with a lucrative long-term contract extension secured, the Islanders' most dynamic offensive threat is goalless through six games.
24. Winnipeg Jets (2-3-0)
Preseason rank: 21
The Jets need to blow it up since they're not winning anything with this core. Stripping Blake Wheeler of the 'C' was already a telling sign of issues in Winnipeg's dressing room. However, the on-ice performance is the clearest sign that change is needed. You can bet trades will be made if Winnipeg misses the playoffs in consecutive seasons considering Wheeler, Mark Scheifele, Connor Hellebuyck, and Pierre-Luc Dubois can be unrestricted free agents in 2024.
25. Columbus Blue Jackets (3-4-0)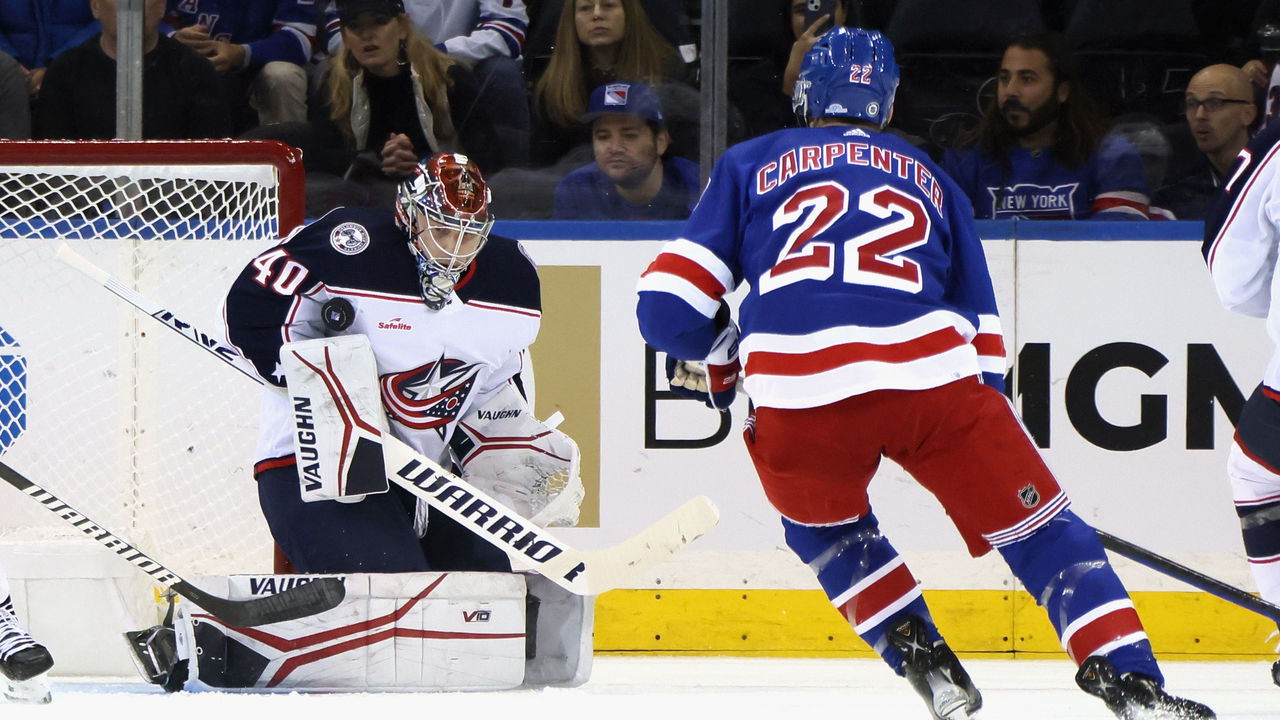 Preseason rank: 24
The Blue Jackets have a goalie controversy. Elvis Merzlikins has struggled mightily, and Daniil Tarasov's strong performance Sunday against the Rangers should give him more starts moving forward.
26. Chicago Blackhawks (3-2-0)
Preseason rank: 31
The Blackhawks will break the NHL's shorthanded goals record. Chicago already has four of them through its first five games. The Oilers set the current benchmark with 36 in 1983-84, so the Blackhawks could blow that out of the water if they somehow maintain their current pace.
27. Seattle Kraken (2-3-2)
Preseason rank: 26
There's a reason Shane Wright fell to fourth overall. The Kraken swung and missed on this year's first-round pick, as the teenager once destined for superstardom has offered next to nothing five games into his career. There's not even a point in playing him more than the 7:06 he's averaging per game this season.
28. Montreal Canadiens (3-3-0)
Preseason rank: 29
Arber Xhekaj (pronounced JACK-EYE) might be the NHL's toughest player. Sure, he's only fought once, but he put the league on notice by rag-dolling Zack Kassian. Who'll take on the 21-year-old rookie next?
29. San Jose Sharks (2-6-0)
Preseason rank: 28
Connor Bedard could be Bay Area-bound. The Sharks weren't expected to contend this season, but they weren't supposed to be this bad. San Jose's slide toward the league's basement puts the team squarely in the Bedard chase. However, there's no guarantee the Sharks will actually finish with the best odds to land the first overall pick.
30. Anaheim Ducks (1-4-1)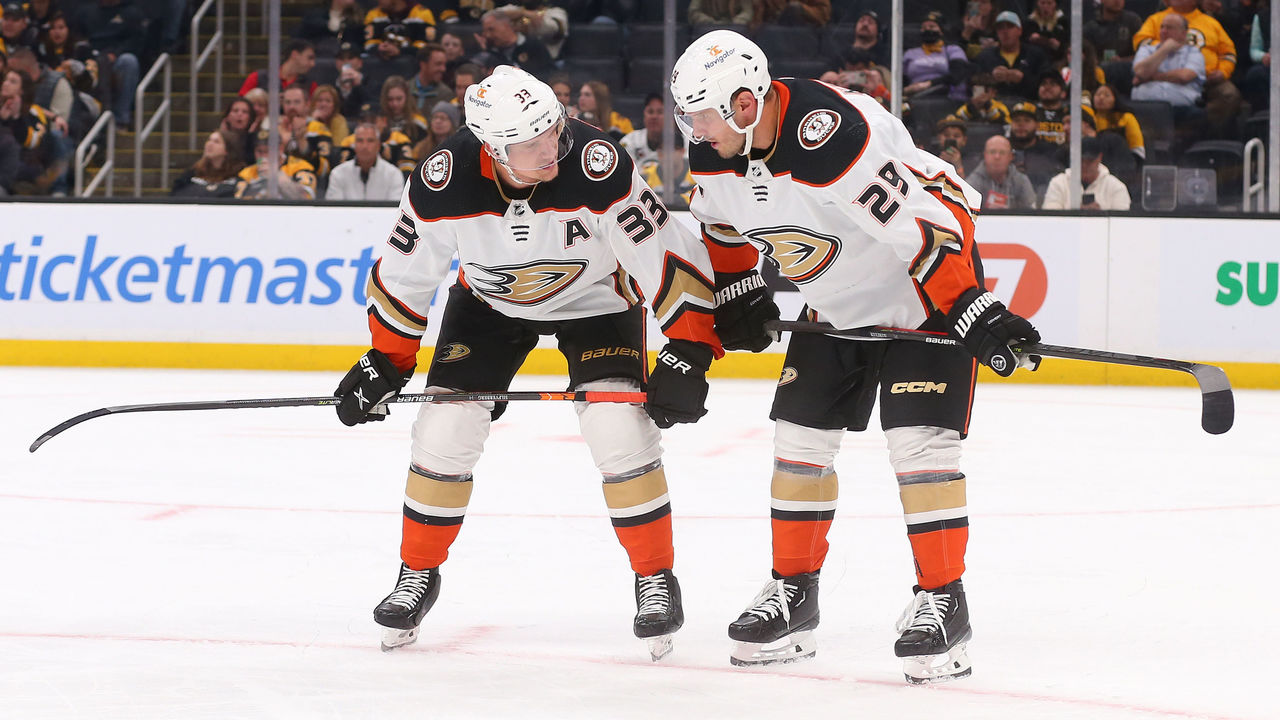 Preseason rank: 27
The Ducks need a rebrand to fully take the next step. Anaheim hasn't had many positives to start the 2022-23 campaign aside from its Reverse Retro launch. The club found the perfect medium between the Mighty Ducks era and its current color scheme with the new kits. But until the Ducks permanently look like a contender, they can't play like one.
31. Arizona Coyotes (1-4-0)
Preseason rank: 32
The Coyotes have a future star in J.J. Moser, an unknown to most NHL fans. The second-year defenseman is averaging a team-high 23:58 of ice time and has collected four points through five contests.
32. Vancouver Canucks (0-4-2)
Preseason rank: 18
The Canucks may never win a game again. This one is pretty sad because it doesn't totally feel like an overreaction right now.
(Analytics sources: Evolving Hockey, Natural Stat Trick)