Carey Price Likely Done, But Won't Retire
Montreal Canadiens goaltender Carey Price met with the media earlier today, and many wondered if there would be some kind of huge announcement made when he spoke.
There really was no big announcement or shocking revelations made, but Price did talk about his recovery, or lack thereof, from his knee surgery. He spoke about how slow progress is, and that he is nowhere near setting foot on the ice again.
In fact, it sure sounds like he won't be playing an NHL game ever again. Price did play five games late last season, but he hasn't really been healthy and in action since the Canadiens lost the 2021 Stanley Cup Final about 15 months ago.
Canadiens Carey Price Career Likely Over
Price described how he is not able to walk up and down stairs without feeling pain in his knee and he sounds like he is more focused on his quality of life off the ice, and not really worrying about the possibility if he ever gets back on the ice.
He went so far as to say it would take a miracle for him to get back in the Habs crease. He said his first goal is to get healthy, and when that happens he can start to train like a professional athlete once again. When (if) that day ever comes, he can start to consider possibly playing hockey again, but he isn't there yet.
The murmurs about him possibly announcing his retirement never made sense. The few games he was able to play in 2021-22 are likely his last, but even if Price was told by 100 doctors that he will 100% never play an NHL game ever again, he is not going to announce his retirement. At least not while he is under contract.
The 35 year old has three more years on his contract after this season. Simply put, if he were to retire, he would be passing up on millions of dollars.
Price was given a signing bonus of $6.75 million for this season back in July, so his actual salary is only $1 million. Over the final three years of his contract, he is set to earn $23.5 million in signing bonuses and salary. Add in the remainder of his salary for this season, and Price would have been walking away from over $24 million if he retired today.
That makes absolutely no sense. No one in their right mind would walk away from a lottery jackpot win. Price may end up on long-term injured reserve until the end of the 2025-26 season, but there will be no retirement announcement before that date.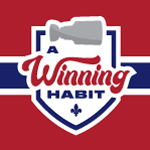 Want your voice heard? Join the A Winning Habit team!