About Last Night: Special teams, broken sticks sink Habs in loss
Joe Pavelski scored a hat-trick to seal a 5-2 victory for the Stars. Arber Xhekaj scored his first NHL goal and added an assist.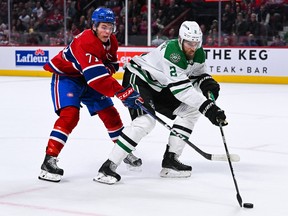 Article content
Ageless wonder Joe Pavelski scored a hat-trick to deliver the Habs their first home-ice loss of the season. Rookie Arber Xhekaj scored his first NHL goal. Jake Allen gave up five goals on 30 shots in the loss.
Article content
The Habs struggled on special teams, allowing two power play goals while negating three power plays of their own.
Pavelski scored one of those goals with the man-advantage to make it 1-0 early in the first. It's not often you see someone roof a backhand like that.
Article content
Mike Hoffman — yes, Mike Hoffman — tied it up before the end of the first period. Both teams were aggressive on offence in the opening frame and both goalies held the fort.
Article content
Pavelski potted his second before patrons could return to their seats following the intermission. He scored 18 seconds into the second period to give Dallas a 2-1 lead.
Article content
A bizarre sequence followed where Nick Suzuki's stick ominously laid shattered in the Dallas slot. The broken stick not only thwarted an Evgenii Dadonov breakaway attempt, but Brendan Gallagher tripped over it and landed hard into the boards. He left the game in noticeable discomfort, but returned.
Dallas added to their lead with another power play goal. Jason Robertson completed a give-and-go with Jamie Benn with a one-timer to beat Allen and make it 3-1.
Article content
Then came Xhekaj's first as a pro. His seeing eye shot from the point caught Jake Oettinger off guard and hit the back of the net to reduce Dallas' lead to one.
Article content
With 17 seconds left in the period, Kirby Dach and Jonathan Drouin headed up the ice prematurely, leaving their teammates out to dry. Esa Lindell collected his own rebound to give Dallas a 4-2 lead at the intermission.
Article content
At 6:53 of the third period, Pavelski completed his hat-trick. He waited out two sliding Habs — Jake Evans and Jordan Harris — before beating a possibly surprised Allen.
Article content
After winning three games and being relatively competitive in the other two to begin the season, Saturday night's loss was a no-doubter. The Dallas Stars look like a pretty strong team up front with a Vezina-calibre goalie who can bail out the defence. The Florida Panthers may come to regret letting Mason Marchment leave for Texas.
The Liveblog commenters were bracing themselves for a resounding loss such as this one. The nature of the rebuild necessitates it. Arber-mania continues in the commments, with countless superlatives and nicknames being bandied about. And what of Suzuki's stick laying there like Chekhov's gun? You knew it would come into play, and sure enough, it almost had disastrous consequences for Gallagher. But before the top comments, a reminder the Habs continue to roll out the most inexperienced defence in the league by a country mile:
Article content
3. "I remember when the on ice officials would pick up the broken sticks as soon as possible." -Michael Paul
2. "Was Slaf's goal our only goal this year on a shot from the slot? Geez, we seem to only shoot from the outside." -Bob Taylor
1. "Black-Eye is 10th in the league for body checks. This guy better not be sat when the vets get back." -Marc Taillefer