Panthers Injury Woes Could Be Huge Benefit To Habs
The Montreal Canadiens were sellers at the 2022 NHL trade deadline, and wisely shipped out a number of veteran players for prospects and draft picks.
The Canadiens will have to be patient to see how those trades work out. Any time you are acquiring prospects and draft picks, you need to wait a few years to see how those players develop.
One particular trade from last year's trade deadline ensures the Habs will have to wait even longer before they can properly assess the return. However, it could turn out much better than ever expected.
Canadiens acquired extra 2023 first round pick
The Canadiens dealt Ben Chiarot to the Florida Panthers and a key part of the package coming back was an unprotected first round draft pick in 2023. That means the team had to wait about a year and a half before even using the selection they acquired in the deal, but it could be well worth the wait.
The Panthers had an incredible season in 2021-22, leading the NHL standings with 122 points and earning the President's Trophy. When you are on your way to a President's Trophy, trading away first round picks is a no-brainer.
But the 2022-23 Florida Panthers are not quite the same on paper as the previous year's squad.
First of all, the team made a huge trade in the offseason to acquire Matthew Tkachuk. Adding Tkachuk seems like something that would make a team that much better, but it cost them Jonathan Huberdeau and Mac Weegar off their first line and top defence pairing.
Earlier this week, the Panthers placed Aaron Ekblad on long-term injured reserve with a lower body injury. Ekblad is the team's unquestioned number one defender, and without Weegar, the only defender on the team that is suitable to be playing top pairing minutes every night.
Even the President's Trophy winning version of the Panthers were a little weak defensively. They outscored many problems as they allowed exactly three goals per game.
Now, they are without their two best defencemen from that team that had question marks on the blue line. They are off to a good start at 3-1-0, but had to play Marc Staal over 22 minutes per night on Wednesday and Radko Gudas was over 25 minutes.
That is not ideal, and not sustainable to winning on a regular basis. The Panthers are still a likely top four team in the Atlantic Division, but if Ekblad is out of the lineup for a couple of months, this team could run into serious trouble.
If they do, that is terrific news for the Montreal Canadiens who own their first round pick next spring no matter what happens.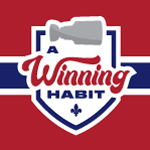 Want your voice heard? Join the A Winning Habit team!