Canadiens Notebook: New captain Nick Suzuki off to a great start
Weight of wearing the "C" and a new US$63-million contract aren't weighing him down as he scores a highlight-reel goal on penalty shot.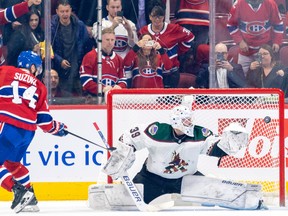 Article content
The weight of wearing the "C" on his shoulder as team captain and a new US$63-million contract certainly aren't weighing down the Canadiens' Nick Suzuki.
Article content
Suzuki scored a highlight-reel, penalty-shot goal during the Canadiens' 6-2 win over the Arizona Coyotes Thursday night at the Bell Centre, giving him 3-3-6 totals in five games to lead the team in scoring. Suzuki also leads all Canadiens forwards with an average of 19:46 of ice time per game, has won 53.6 per cent of his faceoffs and his plus-4 is the second-best plus/minus differential on the team behind defenceman Jordan Harris's plus-5.
Article content
What makes the 23-year-old Suzuki's early season performance even more impressive is the fact he missed almost all of training camp because of injuries.
Suzuki will earn US$10 million this season — including a signing bonus of $4,000,014 with the last two dollar figures matching his sweater number — in the first season of his eight-year contract that has an annual salary-cap hit of $7.875 million.
Article content
His penalty-shot goal against the Coyotes was a thing of beauty as he used the change-up shot move made famous by former Detroit Red Wings star Pavel Datsyuk.
Article content
Suzuki said he had watched Datsyuk make the move on YouTube videos. When asked how many times he had practised the move himself, Suzuki smiled and said: "A few."
The reaction of the Canadiens players who weren't dressed for the game but were watching from the press box was priceless after Suzuki scored.
Article content
"I think I've tried to do it a couple of times (in practice)" Suzuki said, adding he wasn't planning to make the Datsyuk-ian move when he first started skating in on Coyotes goalie Connor Ingram.
"I honestly didn't really like my first look," Suzuki said. "He kind of came really far out of his crease and then I just kind of improvised at the end."
Teammate Arber Xhekaj was among those impressed by Suzuki's move.
"That was unreal," Xhekaj said.
"I got some under-rated moves, too, in the shootout," Xhekaj added with a grin. "I scored one last year (with the Hamilton Bulldogs in the OHL) to win the game. But he's a sick player. We knew something special was coming. I didn't know that was coming. But it was fun to watch, for sure."
Article content
Xhekaj drops the gloves
Xhekaj also made the highlight reels Thursday night by beating up Coyotes tough-guy Zack Kassian in the first period.
It was the 39th career NHL fight for Kassian, according to hockeyfights.com, and the first for the rookie Xhekaj. The fight ended with Xhekaj rag-dolling Kassian with his sweater over his head.
"I've played with some tough guys," the Canadiens' Brendan Gallagher said after the game. "I've played with a lot of guys willing to fight and willing to stand up for your teammates. But you don't take it for granted. You take a young kid like that and he's willing to fight some of the toughest customers in the league. It's something not a lot of people can do. It's nice to have him on your side.
Article content
"He's tough," Gallagher added about Kassian. "He's a lefty, which scares some guys off. I think Arbs enjoyed it because it just means they get to trade punches and him being the person he is I think he might enjoy that. He's tough and he's willing to stand up for his teammates. He brings a presence that is important to have back there."
Xhekaj and Juraj Slafkovsky — the No. 1 overall pick at this year's NHL draft — have become good friends. Slafkovsky scored his first NHL goal against the Coyotes.
Xhekaj has earned the nickname "Wifi" from his teammates because his name looks like the password for a sign-on. Xhekaj is calling Slafkovsky "Knucklehead" while trying to come up with a better nickname for him.
Article content
Slafkovsky said he wasn't surprised Xhekaj beat up Kassian, noting there's a TikTok video that shows how massive the Canadiens defenceman's hands are.
"I think the crowd was surprised," Slafkovsky said about the fight. "(Xhekaj) can really kill the people, I think."
Article content
When Slafkovsky was told that Kassian is one of the scariest players in the league, he pointed across the locker room at Xhekaj and said: "For me it's that guy. I'm more scared of him."
Slafkovsky added: "I'm always scared of him. I'm happy that he's on our side and he got our back as well. The guy before the goal (Slafkovsky scored) went to hit me and I think Arber went and jumped him after. So it's good to play when you know you have guys like Arber behind your back."
Xhekaj was happy to see his friend score his first NHL goal.
"It's awesome," Xhekaj said. "It came before 10 games in the league and that's huge. I'm just proud of the guy, man. He deserves it."
Article content
Making progress
Canadiens head coach Martin St. Louis is pleased with the way Slafkovsky has been progressing.
The 18-year-old logged a personal-high 14:26 of ice time against the Coyotes and had three shots on goal after getting only one shot in his first four games.
"I think as an organization as we deal with players individually we're very process focused," St. Louis said. "But the result is important for the confidence of the group as a team. Winning's got to be part of the process, too. Individually, producing has got to be part of the process, too, and now he did that tonight. It feels good.
"Does he take a step in his game? I assume he will because he gains confidence from this," the coach added. "So it's important. As much as you want to be process driven, individually and collectively the result really helps the process."
Article content
First goal for Gallagher
Gallagher has played well since the start of training camp and he was finally rewarded with his first goal of the season against the Coyotes.
"I just always tell myself I've scored my whole life, eventually they'll go in," Gallagher said. "It's important that you're getting the chances and when the chances dry up is kind of when you get concerned. They've been there, especially the last couple of games here, playing with (Christian Dvorak) and (Evgenii Dadonov). There's opportunities there and it's going well, so hopefully it continues."
Things have also been going well for the rebuilding Canadiens, who won their second straight game after beating the Pittsburgh Penguins 3-2 in overtime to improve their record to 3-2-0. They are also unbeaten in three games at the Bell Centre.
Article content
"I thought we had a deep-game mentality early and possessing in the O-zone," St. Louis said about beating the Coyotes. "We got a few good bounces that we forced a team to turn pucks over. We played on top of them. I felt we really did against Pitt and we were opportunistic with our chances. It's nice to see Gally score. I thought he's played tremendous and to get rewarded it's a plus. I felt we started the game the way we finished (against Pittsburgh). It's a good sign."
With Slafkovsky scoring his first goal, Gallagher was asked about his first goal in the NHL, which came in his third game with the Canadiens on Jan. 27, 2013, against New Jersey goalie Martin Brodeur in a 4-3 overtime win over the Devils at the Bell Centre.
"(Alex) Galchenyuk passed it to me," Gallagher recalled. "We were kind of just smiling, happy young kids on the bench. I remember (head coach) Michel Therrien gave me a nice little smack on the back. (Assistant coach) Gerard Gallant was right there. I just remember everyone being happy for you. You say to remember it and enjoy it but, honestly, it's kind of a blur when it happens. The hardest challenge is getting ready for the next shift. I don't remember much of it, but I just remember being happy. Chucky made a good pass.
Article content
"(Brodeur) was my favourite goalie growing up," Gallagher added. "Me and Marty we share a birthday, so I do remember it."
Gallagher was born on May 6, 1992 — exactly 20 years after the Hall of Fame goalie was born.
Article content
Caufield on fire
After scoring again against the Coyotes, the Canadiens' Cole Caufield now has four goals in five games to start the season.
Caufield has also scored 26 goals in 42 games since St. Louis took over from Dominique Ducharme as head coach last season. Caufield had only one goal in 30 games with Ducharme behind the bench.
Since Feb. 10, when St. Louis coached his first game with the Canadiens, only four players in the NHL have scored more goals than Caufield: Kirill Kaprizov (31), Auston Matthews (30), Elias Lindholm (28) and Steven Stamkos (28).
Canadiens goalie Jake Allen is also off to a good start this season.
After stopping 25 of the 27 shots he faced against the Coyotes, Allen has a 2-1-0 record with a 2.02 goals-against average and a .938 save percentage.
Article content
A building block
With everything that happened during Thursday's game — including Suzuki's shootout move, Slafkovsky's first goal, Xhekaj's first fight and his own first goal of the season — Gallagher was asked if the game could be an important building block for the rebuilding Canadiens.
"These nights are fun to have," he said. "They're fun for the group. But, at the same time, it is important to enjoy it for the night. We worked hard for this. Have a smile on your face leaving the rink. When you wake up tomorrow it's another work day and this league can humble you fast if you dwell on the good or the bad. So you show up tomorrow … we put in two good practice days and it carried into our game tonight, it carried into our start and that's important for us to realize why we got these results. The process that went into it, it was hard work, it's rewarding, though. Everyone leaves with a smile and we're going to try to continue that."
Article content
Friday was team photo day for the Canadiens at the Bell Centre.
There were a lot of reasons for the players to be smiling.
Article content
What's next?
The Canadiens will be back in action Saturday night when they play the Dallas Stars at the Bell Centre (7 p.m., SNE, CITY, TVA Sports, TSN 690 Radio, 98.5 FM).
Next week, the Canadiens will play the Minnesota Wild Tuesday night at the Bell Centre (7 p.m., TSN2, RDS, TSN 690 Radio, 98.5 FM) before going on the road for games against the Buffalo Sabres on Thursday (7 p.m., TSN2, RDS, TSN 690 Radio, 98.5 FM) and the St. Louis Blues on Saturday (7 p.m., SN360, CITY, TVA Sports, TSN 690 Radio).