Canadiens' Arber Xhekaj delivers message after beating up Zack Kassian
"He's a hockey player, but he brings robustness," head coach Martin St. Louis says. "He's capable of fighting … it's part of the game."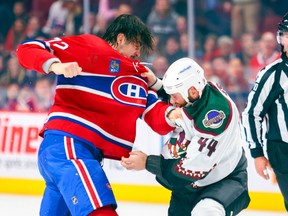 Article content
One of the low points for the Canadiens last season came during a 7-2 loss to the Edmonton Oilers at the Bell Centre in January.
Article content
With the Oilers already leading 5-1 late in the second period, Zack Kassian ran over goalie Samuel Montembeault behind the Canadiens net. There was no reaction whatsoever from the five other Canadiens players on the ice — Jeff Petry, Brett Kulak, Ryan Poehling, Mike Hoffman and Laurent Dauphin — as Kassian went to the penalty box for roughing.
Article content
"Looking back at it, I didn't see the actual (hit)," Petry said after the game. "I just saw Monty go down. For me, it's not a place to go and have to fight a guy like that. But I think, looking back, replaying it in my head, you should at least get in his face and have a word with him. I think that's something that is on me and on the other guys on the ice, too, you know — stand up for our teammates."
Article content
Michael Pezzetta did drop the gloves with Kassian during the third period of that game, but the Canadiens forward took a beating, ending up down on the ice inside the Oilers net with Kassian pounding him with left-hand punches.
Article content
The Canadiens lost their next two games — 6-3 to the Columbus Blue Jackets and 7-1 to the New Jersey Devils — before head coach Dominique Ducharme was fired. The Canadiens had an 8-30-7 record at the time.
The Canadiens improved after Martin St. Louis took over, going 14-19-4 with him behind the bench, but they still finished with the worst record in the NHL. As a team, the Canadiens could still be intimidated. There was a game late in the season in New Jersey in which the Devils were targeting Nick Suzuki and Cole Caufield and it was Chris Wideman — all 5-foot-10 and 180 pounds of him — who came to their defence.
Article content
On Thursday night, Kassian was back at the Bell Centre as a member of the Arizona Coyotes. Early in the first period, he took a run at Canadiens defenceman Jordan Harris, who was able to turn away from Kassian and the Coyotes forward took the worst of the collision.
Later in the first period, 6-foot-4, 238-pound Arber Xhekaj dropped the gloves with Kassian, who is 6-foot-3 and 211 pounds.
It was a heavyweight bout. According to hockeyfights.com, it was the 38th career NHL fight for Kassian. It was the first NHL fight for Xhekaj and he put a beating on Kassian, who was getting rag-dolled at the end with his sweater pulled up over his head.
During his first five games with the Canadiens, Xhekaj has proven he can play in the NHL and isn't just a tough guy, averaging 15:07 of ice time while picking up an assist and posting a plus/minus differential of plus-1. But he has also shown that the Canadiens will no longer be pushed around and intimidated by players like Kassian. The video of Xhekaj's beatdown on Kassian will certainly make the rounds with other NHL teams.
Article content
Head coach Martin St. Louis has spoken with Xhekaj and told him he doesn't have to fight to stay in the NHL and that he needs to choose his spots when he does drop the gloves.
"He's a hockey player, but he brings robustness," St. Louis said after the game. "He's capable of fighting … it's part of the game.
Article content
"I feel we've taken a pack mentality," St. Louis added about his team. "I think we look after one another and I know we have guys that can address things if they need to be addressed. But it's a pack mentality and I like that as a group."
Early in the second period, the Canadiens' Juraj Slafkovsky was carrying the puck into the offensive zone when Coyotes defenceman Josh Brown delivered a high, hard hit on the No. 1 overall draft pick at the blue line. After the puck went into the corner, Xhekaj left his position and skated hard after Brown, hammering him into the boards. A loose puck was created from the hit and Slafkovsky ended up scoring his first NHL goal as a result.
Xhekaj logged 17:40 of ice time during the game and had a real impact with three shots and three hits, while Kassian had a team-low 9:52 of ice time.
Article content
"Just seeing what I can do with the big boys," Xhekaj said about his fight with Kassian. "I was in the OHL last year and those guys aren't as old, don't have much experience (fighting). But seeing how I can handle myself with them and it went pretty well, so it was good.
"Our coaches were saying if anyone challenges you just be calm," Xhekaj added. "Do it on your terms. It was in my head: I can't lose this fight."
He won it handily.
"I'm here trying to make a name for myself and show that I'm going to stick up for my team and that I'm tough and maybe they'll think twice about running our guys," Xhekaj said.
That message has been sent loud and clear.