Watch Juraj Slafkovsky Score First Career Goal
The Montreal Canadiens surprised many when they chose Juraj Slafkovsky with the first overall pick in the 2022 NHL Draft. This big Slovakian was ranked high by everyone, but most had Shane Wright ahead of him on their draft boards.
Apparently not the Montreal Canadiens who would take Slafkovksy first. Not only did he end up getting picked higher than Wright, but he would score his first NHL goal before Wright as well.
Slafkovsky was able to pull that off tonight against the Arizona Coyotes… wait, does it count as his first NHL goal if he scored it against a team that plays out of a college arena with a roster that would likely lose to a few college teams?
Canadiens Juraj Slafkovsky scores first NHL goal
It sure does! And Slafkovky was able to do it with quite a bit of flair as well. The big kid with the oversized personality found a way to put his own stamp on his first NHL goal, which was a nice snipe by the way.
He picked up a loose puck in the offensive zone and took the open ice that was given to him in the slot. He stepped towards the Coyotes goal before firing a wrist shot past Connor Ingram in the Yotes net.
Welcome to the @NHL, Juraj Slafkovský! 🚨 pic.twitter.com/MiF9sk62iW

— Sportsnet (@Sportsnet) October 21, 2022
Just before the goal, Coyotes defender Josh Brown took a healthy run at Slafkovsky. The Habs young forward made sure to report back to Brown that he was okay immediately after scoring to give the Canadiens a 4-0 lead in the middle frame.
Slafkovksy can be seen shouting at Brown seconds after scoring, but I would suggest to not read lips as this is a family website.
The kid was all smiles on the bench after the goal, basking in the glow of his first ever NHL goal.
Who knows that the 2022-23 season has in store for the Canadiens, and for Slafkovsky, but there is no way the Canadiens first overall pick from the 2022 NHL Draft will ever forget tonight's goal.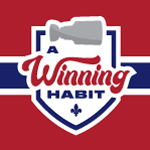 Want your voice heard? Join the A Winning Habit team!