Stu Cowan: Canadiens' Caufield finds his happy place under St. Louis
The 21-year-old forward is on a sizzling scoring pace, with 25 goals in 41 games, since head coach took over from Dominique Ducharme.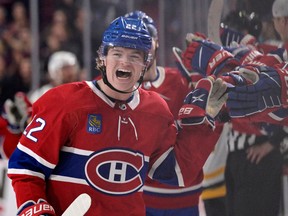 Article content
Heading into Thursday night's game against the Arizona Coyotes at the Bell Centre, Cole Caufield had scored 25 goals in 41 games since Martin St. Louis took over as head coach of the Canadiens.
Article content
I failed Grade 10 math (true story) but I believe that pace would work out to 50 goals over a full 82-game season.
Article content
The Canadiens haven't had a 50-goal scorer since Stéphane Richer scored 51 in 1989-90. They haven't had a 40-goal scorer since Vincent Damphousse scored 40 in 1993-94.
With three goals in the first four games this season, Caufield was on pace to score 61. Don't expect the 21-year-old to stay on that pace, but it wouldn't be a shock if he hits the 40-goal mark. Last season, there were 17 players in the NHL who scored at least 40 goals.
When St. Louis took over from Dominique Ducharme in February, Caufield had scored one goal in 30 games.
"I wasn't playing my best hockey," Caufield said during a one-on-one chat after practice Tuesday in Brossard, looking back on that period. "I think there were things I could have done better. You've got to do what the coach wants. I wasn't doing enough. Our whole team was struggling but, for me, the type of player I am, I kind of have to see the puck go in and it just wasn't. It's a tough league and it's a business, and you kind of learn that. It was really good for me to go through that stretch there and learn you have to stay detailed and stay disciplined with what the coach wants. I think that's going to go a long way with my learning throughout my career."
Article content
When St. Louis took over, he sat down for a chat with Caufield.
"When I came in, I think he played on the fourth line for the first two games," St. Louis said after Thursday's morning skate. "I remember just telling him to go play. Don't worry about the weight of the season and not scoring. Just go play, have fun, we'll figure it out. I think it was a new start for him."
Caufield scored a goal in each of his first two games with St. Louis behind the bench and has never looked back. He finished last season with 23 goals, including a hat-trick in the final game, and ended up one goal behind the Nashville Predators' Tanner Jeannot for most goals by a rookie. Jeannot is four years older than Caufield.
"Cole is a player that obviously can score goals and plays with a lot of confidence," St. Louis said. "You've got to be careful as a coach not to over-coach guys like that and taking some of that freedom and confidence away. I think I've been cautious, but I've also been coaching him away from the puck as well because I don't think I can make Cole Caufield a better goal-scorer, but I think I can help him get more scoring chances by how he plays away from the puck and where he goes on the ice."
Article content
St. Louis is the best thing that could have happened for Caufield, who grew up in Wisconsin wearing St. Louis's No. 26 in youth hockey because he looked up to him as a player. (At 5-foot-8, St. Louis is one inch taller than Caufield.)
"He says a lot of things to me throughout the game or throughout practices," Caufield said when asked how St. Louis has helped him the most. "But, honestly, just slowing down and getting to the puck at the right times. Your play away from the puck is a lot harder to do than your play with the puck. Just timing yourself to come at the puck at the right situations. It's been a work in progress but, for sure, it's helped me a lot."
As St. Louis has said: "I don't really coach the players with the puck, I coach the four other players without the puck. The puck, that's the present. The four other players, that's the future."
Article content
The future certainly looks bright for Caufield, who is in the final season of his NHL entry-level contract with a salary-cap hit of US$880,333. He can become a restricted free agent next summer, but don't expect GM Kent Hughes to let it reach that point. Caufield can expect to earn something close to captain Nick Suzuki's US$7.875 million average annual salary in his next contract.
When I mentioned to Caufield that he was on a 50-goal pace since St. Louis took over, he said: "I feel like that's the type of player I should be. That's kind of where my head's at … where I should be. Marty's taken the team in the right direction, letting us play more free and more confident with the puck. So the more we have the puck the more goals we're going to score."
How many goals does Caufield think he can score this season?
"As many as I can," he said with a big smile.