Montreal Canadiens – Martin St. Louis' masterful coaching
Montreal Canadiens head coach Martin St. Louis has systematically set the stage to pursue early season success like a chess master carefully executing an opening.
As compellingly outlined by JD Lagrange, the Canadiens severe week one schedule of four games in six nights stacked the deck against a club that has an especially complex array of injuries, rookies, new signings, and big contracts to integrate and coordinate.
The enormity of the task has forced coach St. Louis to scrupulously prioritize who and what would get attention. The first set of moves played out in game one versus Toronto.
It was crucial the Montreal Canadiens elite scorers – Suzuki, Caufield, and Anderson – got off to as fast a start as possible this season. The last thing needed was to have top offensive players slow out of the gate, which not only hurts the scoreboard but also brings the requisite player frustrations, media scrutiny, and fan disenchantment .
Turned loose in game one with generous ice time and creative freedom vs the Toronto Maple Leafs, all three contributed in style.
Mind you, this strategy was all about offense, not necessarily great hockey, and there have been some notable defensive lapses. But getting that trio of snipers settled and confident was key.
Also, game one needed to be devoid of the nuanced and complicated Jonathon Drouin situation. Guiding him back to a consistent and productive offensive track this season would have to wait, and St Louis made the gutsy call to scratch him for the opener.
More important would be to meld into the Montreal Canadiens those newly signed and for the long term, especially Sean Monahan and Kirby Dach. Each were thus allotted had ample ice time, including some on the powerplay.
Right to plan, both significantly contributed to the win. Dach's puck-digging skills and Monahan's finishing touch resulted in a key goal late in the game.
Juraj Slafkovsky, meanwhile, was in, as was highly anticipated by fans and media. But, not all the way in. It was known days prior that he would not be on either powerplay unit.
This seemed a savvy comprise by St. Louis between those expecting Slafkovsky to be on the starting roster and the team's veterans, who may not have appreciated an eighteen-year-old occupying a powerplay spot right out of the gate.
As for the defense, there was no room for finessing playing minutes in game one or the three since. In an enormous gesture of confidence, rookies Kaiden Guhle, Jordan Harris, and Arber Xhekaj have been thrown in the deep end to sink or swim.
What seems an all-or-nothing gambit is not likely just a leap of faith, we sense St. Louis knew they would embrace this enormous responsibility and rise to the challenge. Their combined plus/minus after four games is zero, a testament to their steady play on a team that began to struggle offensively in games two and three against Detroit and Washington respectively.
Drouin was introduced into the Canadiens line up once the dust settled, and St. Louis turned his attention to the dynamic five-million-dollar-man in games three and four, understanding that dynamic can mean soaring to excellence but also plummeting to mediocrity and worse – so he had to get Drouin in on the offense asap.
Regular shifts plus some powerplay duties merged, in a sense, with the goalie pulled against Pittsburgh in game four and Drouin challenged to work some extra-attacker magic.
In a carefully scripted scheme Drouin was assigned to laser a long cross-ice pass to Caufield, which he executed in sharp surprise to the Penguins, like a stealth bishop's sudden diagonal across the entire board to capture a key piece.
The stage was set for the Montreal Canadiens to now take the lead, and a precise play toward that end was soon calmly executed.
Situated 4-on-3 in overtime, St. Louis called on Monahan and Dach. Dach, especially, was potentially of concern, for even though his first three games were well played, as Ken MacMillan keenly detailed, a solitary assist was all that showed for a new signing needing to have a breakout season.
Again scripted to a T, Dach directed into the net a perfect pass from Monahan and it was a 3-2 win. Monahan piggybacked on his earlier point from game one, Dach was now established as a key part of the offense, and the Montreal Canadiens improved to 2-2 on the season, a record any fan or analyst has to respect given where the Habs have been.
Admittedly, master tactician for four games is a long way from grandmaster over eighty-two, and there is much improvement needed for St. Louis to attain that status, and plenty of issues still to address.
Overall, the offense is weak, and the powerplay is terrible, only one goal to speak of, that from the aforementioned 4-on-3.
Decisions on Slafkovsky's role in the near future have been delayed while St. Louis has tended to all the above, but those decisions will need to be made soon.
Perhaps these challenges can be addressed together? Is it time for Slafkovsky to be put on the powerplay? Has St. Louis been waiting to see if his veteran players can it done, knowing that if they can, great, and if they can't, then he will have more leverage in assigning the young rookie some extra ice time?
Given what we've seen so far, I would expect nothing less than such a brilliant plan.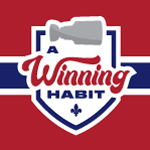 Want your voice heard? Join the A Winning Habit team!