Jake Allen back with Canadiens after birth of third daughter
"My two other daughters are born in St. Louis," goalie says. "Now we get a Montrealer and a Quebecer. Our first Canadian baby."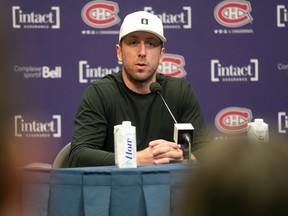 Article content
Jake Allen will be back in goal for the Canadiens Thursday night at the Bell Centre against the Arizona Coyotes after his wife, Shannon, gave birth to their third child on Monday.
Article content
Allen missed Monday night's game against the Pittsburgh Penguins, which the Canadiens won 3-2 in overtime, to be with his wife for the birth of their third daughter.
Article content
"My two other daughters are born in St. Louis," Allen said after practice Wednesday in Brossard about Lennon, 5, and Reagan, 4. "Now we get a Montrealer and a Quebecer. Our first Canadian baby. The other two fortunately have dual citizenship for them in the future."
The Canadiens acquired Allen — a Fredericton, N.B. native — from the St. Louis Blues on Sept. 2, 2020.
"Everything went smooth," Allen said about the birth of his third daughter. "It was a quick day on Monday. But we came home yesterday morning. I skated after by myself when the guys were done practice. Good to be back with the group and be back into a routine.
Article content
"It was a great experience, it was a great day," he added.
Allen wasn't able to watch the Canadiens play the Penguins after the birth, but he did listen to the game on radio as Sam Montembeault stopped 26 of the 28 shots he faced, improving his record to 1-1 with a 2.48 goals-against average and a .912 save percentage.
"My iPad is still American," Allen said. "It wouldn't let me download the game in Canada. I was at the hospital, so I actually listened to it. Video coach Eric (Gravel) sent me a link to listen to it on the radio, so the best I could do."
Allen is off to a good start this season with a 1-1 record, a 2.03 GAA and a .943 save percentage. The Canadiens signed the 32-year-old to a two-year contract extension before the start of the season that runs through the 2024-25 season with an annual salary-cap hit of $3.85 million. His salary-cap hit this season is $2.875 million.
Article content
With Carey Price on long-term injured reserve because of a knee injury, Allen is the Canadiens' No. 1 goalie and a big question is how many games will he play?
The last time Allen played more than 50 games was 2017-18 with the Blues — the year before they won the Stanley Cup — when he played 59 games and had a 2.75 GAA and a .906 save percentage. The next season he lost the No. 1 job to Jordan Binnington, who was in goal when the Blues won the Cup.
Allen said the amount of games he will play and the goalie schedule moving forward hasn't really been discussed with head coach Martin St. Louis, goalie coach Eric Raymond and Montembeault.
"I think all three of us have a pretty open communication and that's the way it should be and the way you want it to be," Allen said. "We don't get too far ahead of ourselves. I think if you start planning for a month, things go sideways a lot. You get a lot of work, maybe you needed a day off here or there. So I think you just do it a maybe couple of games at a time and then take it from there. It's a long year. It's just one step at a time. I've never been a guy that's liked to plan a month or two ahead. It's just sort of roll with it."
Price was at the Bell Centre on Wednesday as part of the Canadiens' annual Blood Drive in support of Héma-Québec, meeting with fans who showed up to donate blood, along with other members of the team. Price is slated to speak with the media on Monday about what the future might hold in store for him.