Habs Looking To Add Right Defenceman
The Montreal Canadiens are off to a 2-2-0 start to their season which is about as good as anyone could have expected. Expectations are not high for this team, so wins over the Toronto Maple Leafs and Pittsburgh Penguins in the first week of the season were surprises.
Of course, those two wins were separated by two poor outings on the road that resulted in losses to the Detroit Red Wings and Washington Capitals. It will surely be a bit of a Jekyll and Hyde act all season long with a promising young team that has some talent but not enough to compete every night at the NHL level.
With that in mind, the team is sure to be a seller when the trade deadline approaches once again. Last season, Ben Chiarot, Brett Kulak, Artturi Lehkonen and Tyler Toffoli were all dealt for picks and prospects that should help out down the road.
Canadiens looking to add on defence?
Though this team will likely be trading away a few veterans again this season, they are apparently looking to add someone at the moment. That is not the usual approach for a rebuilding team, but it might make sense in this situation.
According to TSN's Insider Darren Dreger, the Canadiens are in the market for a right defenceman. He was on TSN's Insider Trading segment on Tuesday night and said the Habs are definitely looking for a right shot on the blue line and he reiterated those comments on TSN Radio on Wednesday.
Obviously the Canadiens are not going to trade a first round pick or top prospects for a rental defender. But, if the right player comes available, it would make sense to bring in a veteran on the right side of the blue line.
The Canadiens currently have David Savard, Jonathan Kovacevic and Chris Wideman on the right side. That's okay, but it is asking a lot of Kovacevic or Wideman to play top four minutes. Another reliable veteran that can rotate between #4 and #7 on the depth chart with Kovacevic and Wideman would ease the burden on all of them.
Maybe that is plucking Nicholas Meloche off waivers in a few weeks if he is called up and sent back down at any point. Maybe it involved trading for Sean Durzi or Sean Walker out of Los Angeles since they surprising had Brandt Clarke make the team out of training camp and have a logjam on right defence.
Dreger mentions Pierre-Olivier Joseph's name is out there, though he is a left defender. He is from Quebec and is a former first round pick who is sort of buried on the Pens depth chart.
There are not a lot of player trades at this time of year. Most teams are pretty much locked in early in the season and don't look to deal until much closer to the trade deadline. It will be tough for the Canadiens to find a dance partner in October, but apparently they are working the phones to try and pull off an early season deal.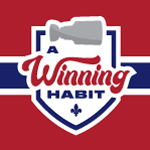 Want your voice heard? Join the A Winning Habit team!