Logan Mailloux To Make OHL Season Debut Tonight
The Montreal Canadiens drafted Logan Mailloux in the first round of the 2021 NHL Draft, but they have not seen him on the ice much since then.
Mailloux was suspended by the OHL for the first half of the 2021-22 season because he was charged with defamation and offensive photography in Sweden during the previous hockey season.
The teenager was playing pro in Europe during that season because the OHL was shut down for the entire year due to Covid. With no games going on in Ontario, Mailloux headed for Sweden where he played in a tier-3 pro league.
Canadiens prospecl Logan Mailloux has looked good in limited action
The Belle River, Ontario native scored 15 points in 19 games in that lower level pro league, but was just 17 at the time. It was enough to impress the previous Canadiens management team which selected him 31st overall.
Last season, after missing the first half due to suspension, Mailloux missed the last quarter of the season as well with injury. He hurt his shoulder in a fight and was out for the remainder of the year. He was still listed as injured throughout Canadiens training camp as well as into the regular season.
He had been sent back down to the London Knights earlier this month, but is yet to play a game this season. That will change tonight when the Knights take on the Owen Sound Attack with Logan Mailloux listed as the top pairing right defender.
The 6'3″ and 217 pound defender looked great in limited action last season. He was only able to suit up for 12 games in between suspensions and injuries but he put up three goals and nine points in those contests.
The Knights can use Mailloux's help as they have won just one of their first five games of this season. The usually dominant team from London needs a kick in the pants to get going and will look to the Canadiens first round pick to provide it.
Mailloux is sure to play a ton at all situations and help out at both ends of the ice with his size, tremendous skating and offensive instincts.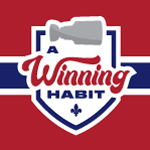 Want your voice heard? Join the A Winning Habit team!