Canadiens' penalty-killing unit finds its footing
"We can't go up against tougher power plays than we've faced so far and we look forward to the next challenge," Jake Evans says of Coyotes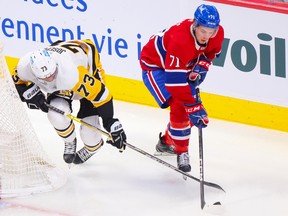 Article content
The Canadiens' penalty-kill has been a success in the early going, surrendering only one power-play goal in 11 opportunities and ranking eighth in the NHL with a success rate of 91.7 per cent.
Article content
But the unit will receive a stern test Thursday when it faces the Arizona Coyotes at the Bell Centre (7 p.m., TSN2, RDS, TSN 690 Radio, 98.5 FM). There aren't too many things to like about the team representing the league's most dysfunctional organization, but the Coyotes' power play has stood out.
Article content
Five of Arizona's nine goals have been scored on the power play quarterbacked by veteran Shayne Gostisbehere, and centre Jake Evans says the Canadiens welcome the challenge.
"We can't go up against tougher power plays than we've faced so far and we look forward to the next challenge," said Evans, referring to the fact the Canadiens didn't give up a power-play goal against Toronto or Pittsburgh. Washington scored the only power-play goal against Montreal but, to the Canadiens' credit, Alexander Ovechkin wasn't involved.
Article content
"We're learning as we go, but we're all on the same page now," said Evans. "I think we're realizing how big an impact the penalty-kill can have on games and how it can have an impact on the momentum."
One of the keys to the unit's success has been the play of defenceman David Savard.
"He's got a such a great presence on the penalty kill," said Evans. "I think he's blocked 20 shots in four games. He's that presence that helps the young guys, showing them where to go. It's hard to get pucks through when he's on ice."
Evans is shortchanging his teammate. Savard leads the NHL in blocked shots with 23 and Jake Allen said he makes the goaltender's job easier.
"It's a good thing he has a big rear end," said Allen.
"This is the best I've ever seen him play," added Allen. "He's on his toes and he's playing in every situation."
Article content
One surprise on the unit has been the appearance of Evgenii Dadonov, who doesn't have a history as a penalty-killer.
"I don't know his history, but he's had such a good attitude with us," said Evans. "He works hard, getting in shot lanes and doing everything right."
Allen will be between the pipes Thursday after skipping Monday's game against the Penguins because he was with his wife, Shannon, who gave birth to the couple's third daughter.
"I was able to listen to the game on radio," said Allen. "My tablet is still on an American network, so I couldn't watch it."
Allen said he was able to skate on his own Tuesday and had a full practice Wednesday to get ready for the Coyotes.
Aside from the change in goal, Canadiens head coach Martin St. Louis will go with the same lineup that beat the Penguins. He did make one key change for that game, replacing Josh Anderson with Sean Monahan on the top line with Nick Suzuki and Cole Caufield.
Article content
"(Monahan's) a lefty," St. Louis said when asked about the change. "I don't love three righties or three lefties on the same line. I feel you're as much of a threat on both sides in the offensive zone. He's a pro, he's a veteran. Suzy's still a young guy, so is Cole. He brings calmness to the line, some awareness on both sides of the puck."
St. Louis said he wanted to look at the line earlier, but Suzuki was injured for most of training camp and Monahan was brought along slowly because he was coming off hip surgery.
phickey@postmedia.com
twitter.com/zababes1