What the Puck: Spunky Canadiens reflect their coach's character
The 2022-23 Habs are showing the same uncommon determination that was a hallmark of Martin St. Louis' Hall of Fame career.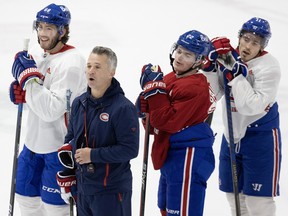 Article content
This Habs team has character — real character.
Article content
It's hilarious. Marc Bergevin used to go on about character all the time but, for the former general manager, character essentially meant lunkhead players who favoured a grinding physical style. Remember how, in spring 2017, Bergevin went and grabbed three "character" players in Steve Ott, Dwight King and Andreas Martinsen, basically three big fourth-liners? How'd that work out?
Article content
This season's squad shows what character really means. It's coming back from a 2-0 deficit to a very good Pittsburgh Penguins team and winning the game 3-2 in overtime on Monday. Nick Suzuki and Cole Caufield have character coming out their ears and both aren't even six feet tall. Character is Suzuki starting the epic comeback by taking a shot at Pens netminder Casey DeSmith and then zipping round the back of the net to pop back out and flip the puck into the net after DeSmith had made the initial save.
Article content
Character is Goal Caufield scoring on a laser pass from Jonathan Drouin with the goalie pulled and 2:20 to go, to force overtime. And character can still be about toughness. So it's Brendan Gallagher making sure at the end of the game against the Washington Capitals Saturday that they understand that if you mess with Suzuki, you'll pay the price.
The leaders set the tone for organizations and the culture always starts at the top. In the Habs' case, the tone is set by head coach Martin St. Louis. This dude defines character. He's a guy who couldn't even get drafted into the National Hockey League and ended up scoring 1,033 points, playing 1,134 games, winning two Art Ross trophies, one Hart, one Stanley Cup and making it into the Hall of Fame. Did I mention he's only 5-foot-8? Character ain't size. It's an attitude.
Article content
Character is St. Louis sending out Suzuki, Caufield, and Kaiden Guhle, age 23, 21 and 20, respectively, to start the overtime Monday. No other Habs coach this century would've done that.
It's Caufield's infectious smile. It's Suzuki's good-natured personality. It's two goalies, Jake Allen and Samuel Montembeault, playing amazingly after pretty well every analyst said they were the worst goalie tandem in the league.
The tank division: Four games in and the lose-for-Bedard crowd is already freaking out. Montreal has four points after four games and they're right in the middle of the standings, 16th out of 32 teams. The hardcore believers in a full-on tank feel Montreal should stink it out all season so they can nab a top draft pick, hopefully even taking the top pick and getting phenom Connor Bedard.
Article content
The tank zealots are a dogmatic bunch and know nothing of nuance. Every fan wants a high draft pick, but no intelligent person wants the team to be mired in a losing culture. The most important thing is properly developing these young players, something Habs management has been unable to do since the 1970s, and there's no way you want Suzuki, Caufield and the others to get used to losing.
Don't worry. Four of the six defencemen have almost no NHL experience. They've looked amazing so far but, over an 82-game schedule, they'll falter, as will the goaltending duo. As underlined during the weekend, scoring will remain an issue with this team. They'll get a very good pick.
Fans weigh in on Slafkovsky: Should 2022 first overall pick Juraj Slafkovsky stay with the big team or be sent down — or is it up? — to the Laval Rocket? Fans outside the Bell Centre Monday had mixed opinions.
Article content
"I think he should stay up for a bit and get more practice with the team," said Jeffery Arseneault.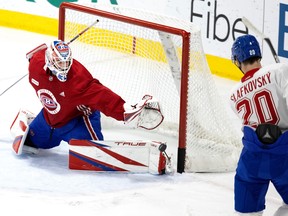 "I think he should stay for now," agreed Aimee Murphy. "The only way to learn is to play with the big guys. We need him to stay. He's our future."
Added her 10-year-old son Houston: "I think the first few games, he's just a little bit nervous. Once you give him a chance, he'll play a lot better."
"We should send him to Laval, look what it did to Cole Caufield, look how he's playing this year now (after a stint in Laval last season)," said Zachary Silverman.
By the team's fourth game, Slafkovsky had been demoted to the fourth line playing with Jake Evans and Mike Hoffman, and he logged just 9:52 of ice time Monday. You're not doing anyone favours putting them on a line with Hoffman, easily the most disappointing Hab so far. And if Slafkovsky is only going to get fewer than ten minutes a game playing with weaker players, they might as well send him to Laval.
There's no shame in doing that and you can give him another shot with the CH in a couple of months. There's too much on the line here to muck up his development the way the team did with its last two top-five picks, Alex Galchenyuk and Jesperi Kotkaniemi.