The Special Sauce to NHL Greatness: Detroit Red Wings Spotlight
Every hockey player has to manage bad pucks, and the NHL stars make it look easy. Bad pucks include bouncing pucks, imperfect passes, deflected pucks, intercepted clearing attempts, collecting rocket passes, and turning ugly plays into offense. Great plays make highlight reels, but making the best of bad plays makes winning hockey.
There is a hard-to-quantify skill that the great players of the NHL possess and average players do not. It isn't speed, hockey IQ, strength, creativity, courage, vision, conditioning, shooting, stickhandling, checking, fighting, passing, or any other measurable skill. The underrated skill is the ability to handle bad pucks. How do the Red Wings fare?
Labeling a player as having good hands usually refers to stickhandling. Dekes and dangles when players possess the puck are exciting.
But the good hands to settle a bouncing puck, take a rifled pass, so it appears to be absorbed by the stick, or make an imperfect pass look good is a different skill. Every controlled pass is the difference between continuing an attack and turning back to defend.
There are few passes in the offensive zone that are uncontested. Nearly every play involves a deflected pass, a bouncing puck, or a defenseman ready to deliver a significant check. Defensive zone play often involves receiving the puck along the boards in the face of a fierce forecheck or an inaccurate puck from a teammate under duress.
Complicating matters is often uneven ice quality and pucks jumping off ruts in the ice. Corralling an imperfect pass or quickly settling a puck that is acting like a tennis ball, or moving the puck from skate to stick in a seamless motion differentiates stars from non-stars.
Which Detroit Red Wings players had this skill?
The previous generation of Detroit Red Wings was full of great pass receivers. Brendan Shanahan could one-time all types of messy passes with power and accuracy.
Pavel Datsyuk could turn waist-high passes into a flat-on-the-ice puck without breaking stride. And Nicklas Lidstrom appeared to have a magnetic force on his stick for magic control of any panicky D-to-D pass. Unless there is a team of quality pass receivers, then it is impossible to be a puck-possession team.
Which Detroit Red Wings currently have this skill?
The Detroit Red Wings are finding more players who can receive passes well. Dylan Larkin's skate-to-stick moves at full speed are world-class. Moritz Seider calms and controls all types of wild pucks into plays he can turn into offense. Jakub Vrana easily directs bouncing pucks, and his quick stick turns the play into a shot or productive pass.
David Perron is first-rate at touch passes, turning bad pucks into offensive opportunities. Lucas Raymond has evolved from good to great in his ability to transition from receiving an imperfect pass to making a play. Elmer Soderblom is surprising in how well he manages bad pucks. The long reach helps, but receiving passes with confidence and skill is a quality predictor of how good he will be.
There are three young players that I am wildly optimistic about, mostly because of their ability to receive passes and manage bad pucks.
Future Detroit Red Wings Albert Johansson calmly accepts pucks, knocks down clearing passes easily, and transitions from defense to offense effortlessly. With this skill, the other aspects of the game he is learning will develop faster. Joe Veleno has improved in this regard. He has evolved from being merely acceptable at managing bad pucks to being solid. He is keeping plays alive in the offensive zone.
The biggest change is Filip Zadina. He was below average to terrible in the domain of receiving passes. He would double-clutch good passes and lose scoring opportunities. Despite having a history of strong one-timers, it was nearly impossible to feed Zadina with a good-enough pass into his microscopic wheelhouse. Almost every imperfect pass bounced off his stick.
Every jumping puck would result in a turnover. He was the definition of squeezing the stick too hard. He appears calmer now. He is accepting the puck instead of fighting it. He is shooting less-than-perfect passes with accuracy.
Zadina has the skill, but he needs to have the confidence to be a strong pass receiver. He looks to be turning the corner. Success for Zadina will be measured in how well he manages hard passes and bad pucks.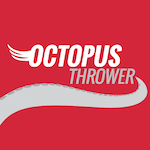 Want your voice heard? Join the Octopus Thrower team!
There are a lot of discussions of the great passers of the game. But being a great receiver of passes and manager of bad pucks is often a better predictor of star power in the NHL. The Detroit Red Wings are developing and acquiring more players with this special sauce.