Game 2 A Sobering Reminder Of What To Expect This Season
The Montreal Canadiens entered the 2022-23 season with extremely low expectations. A last place finish the previous season, as well as the selling off of veterans will do that.
The team that ended last season in last place, started the year with veterans Jeff Petry, Ben Chiarot, and Tyler Toffoli in premium roles. None of those players are back this year, and Brett Kulak, Artturi Lehkonen and Alexander Romanov are also gone.
The team did bring in Kirby Dach and Juraj Slafkovksy, but the players coming in do not equate the value of the players that are leaving town.
Canadiens second game of season a brutal reminder of long season ahead
However, the Canadiens looked terrific on opening night. They were facing a much more talented Toronto Maple Leafs team that is expected to contend for a …. well, the President's Trophy I guess because we all know they lose in the first round of the playoffs and therefore can't contend for a Stanley Cup.
Facing a difficult foe on opening night with an inexperienced lineup to say the least went far better than anticipated.
Kaiden Guhle looked like a ten-year veteran in his first taste of NHL action. This unheard of Jonathan Kovacevic teamed up with rookie Jordan Harris and they looked like a fantastic, smart, two-way pairing.
The line of Nick Suzuki being flanked by Cole Caufield and Josh Anderson looked dangerous all night, combining for three goals.
Kirby Dach showed flashes of the tremendous skill and size that combined to make him a third overall pick just three years ago.
Brendan Gallagher looked at least ten years younger than the Brendan Gallagher who closed out last season.
Jake Allen was great in goal, though he allowed three goals, showing why the team extended his contract two more years beyond this one.
Maybe, just maybe, this team isn't quite as bad as we all expected? Could the young kids all come together, and the veterans dial the clock back and form an actually good hockey team?
No. The answer was no, and we were all reminded of that during Game number two of the season.
The Detroit Red Wings, who were once the beacon of all that is right with running an NHL organization, simply aren't at that tier any longer. They have not been for many years, but they sure looked like it on Friday night.
The Red Wings, not the one's with Nicklas Lidstrom and Pavel Datsyuk playing starring roles I assure you, fired 25 shots on goal in the first period alone against the Canadiens. They completely dominated the game from start to finish, with a Herculean effort from Jake Allen in goal the only thing keeping the score respectable at all.
At the other end of the ice, Ville Husso was probably getting a little chilly just standing around on the ice. According to naturalstattrick.com, the Canadiens had zero high danger scoring chances through two periods of play. They barely got around the Red Wings net all night.
It was a quick reminder to anyone who thought game one showed that this team was better than expected. We may have the odd night of entertaining, winning hockey like we saw on Wednesday.
But more often than not, we will be watching the overwhelmed Habs who can't seem to generate any offence. It is all part of the process for a rebuilding team.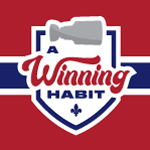 Want your voice heard? Join the A Winning Habit team!