Pierre-Luc Dubois To Test Free Agency In 2024
An interesting bombshell was dropped in Winnipeg that could potential impact the future of the Montreal Canadiens. According to Scott Billeck and Elliotte Friedman, Pierre-Luc Dubois has informed the Winnipeg Jets that he will be testing the free agency waters in 2024.
The pending RFA who just finished a two year deal that paid him $5 million per season is in the midst of what is reported as "difficult" negotiations with the Winnipeg Jets. Both the team and the 23 year old power forward seem unsure of Dubois' future with the Jets.
Whether this is hardball negotiation tactics remains to be unknown, however Dubois is starting to develop a negative reputation regarding his attitude towards management. More than once has he clashed with both John Tortorella and Jarmo Kekalainen while with the Columbus Blue Jackets, and there's rumblings that his relationship with Paul Maurice was "icy" at best.
I took to Twitter to ask fans if the Canadiens should jump on this opportunity to nab Dubois right away, because on a hockey level there's no doubt that he would be an upgrade, however the response was severely underwhelming.
So no, there's no point in selling the farm when you're about to start a rebuild in order to get someone like Pierre-Luc Dubois. I did write back in April that Dubois is reportedly being made available to other teams, but nothing materialized. Either the jets had cold feet or the price for Dubois was simply too high.
The other issue in the price to pay for a Dubois trade is that the Jets have been desperate for an elite defenceman to support Josh Morrissey ever since they lost Jacob Trouba, something the Canadiens don't possess, or are likely unwilling to give up in their prospects pool.
The possibility to see Dubois in Montreal in 2024 still exists. The Ste-Agathe-des-Monts, Quebec native will surely listen to an offer from the Canadiens should he become available by then. All that however will depend if the salary cap significantly rises and if his fitting into the roster still makes sense at that point.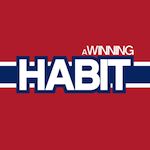 Want your voice heard? Join the A Winning Habit team!