Injuries Are Piling Up Quicker Than Losses
Montreal Canadiens injuries are piling up almost as quickly as losses to begin the 2021-22 season.
After a run to the Stanley Cup Final, the Habs have limped out of the gate and their playoff chances appear pretty much nonexistent in the middle of November.
Not only have they had a hard time winning games, but staying healthy has proven to be just as difficult.
Head Coach Dominique Ducharme met with the media yesterday and announced a series of injury updates. He, like every coach around the league, is vert tightlipped when it comes to actual injuries or whether a player is dealing with something other than an "upper body" or "lower body" ailment. He did give some updates on the following players.
Joel Edmundson is progressing well in his attempt to make his season debut. He is skating again and inching his way back to joining the rest of the team at a full practice. His return should help with the defensive issues and penalty killing failures of the team this season.
Jonathan Drouin is day-to-day but is not expected to play tonight. He is dealing with recurring headaches, though Ducharme did mention that he is not dealing with a concussion. It sounds an awful lot like a concussion and if you recall, the last time we saw Drouin was when he was hit in the head with a slap shot before quickly leaving the ice. It is interesting that Ducharme would go out of his way to say it isn't a concussion, but that injury certainly stems from the puck to the head.
Christian Dvorak and Josh Anderson are listed as day-to-day but are expected to play. They both played in the team's last game, a 3-2 overtime loss to the Los Angeles Kings, and they should be in the lineup tonight against the Calgary Flames.
Cedric Paquette left that game against the Kings early when he got tangled up and fell awkwardly. There were no specifics on his injury, but he will be out of the lineup for the next ten days at least. The team is pretty thin at centre so losing Paquette, while Mathieu Perreault is also out, does sting a bit.
But as long as Dvorak is good to go tonight, we should see Nick Suzuki, Dvorak, Jake Evans and Adam Brooks as the team's four centres.
We will have to wait and see what the lines are for the rest of the positions, but it does sound like Anderson and Dvorak are fine, while Drouin shouldn't miss much time and Edmundson is getting closer as well.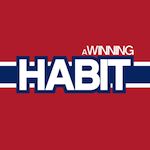 Want your voice heard? Join the A Winning Habit team!