Shea Weber and the NHL's Playoff Problem
[ad_1]

The Montreal Canadiens elation of last year's Stanley Cup Final did not last long into the offseason, as it was not long after their Game 5 loss to the Tampa Bay Lightning that it was announced that Shea Weber would not play this upcoming year, maybe never again. Weber was traded for P.K. Subban in 2016 and named the 30th captain in team history in 2018. The Man-Mountain owns one of the hardest shots of all time, a physical beast and one of the best leaders currently playing. Well, was currently playing.
It has been all but confirmed that Weber has retired, coming from Drouin's mouth. The winger has said Weber is a scout now, and will never be returning to the NHL ice again. The reason that he is not retired officially now, is supposedly to keep away the massive cap recapture penalty for his old team, the Nashville Predators, who signed him to a monstrous 14 year, $110 million contract in 2012.
The captain played in all of the Montreal Canadiens playoff games and was apparently playing through a thumb, knee and foot injury. Surely he didn't get all of those injuries in Game 5 of the Final. And that's kind of the problem. Shea Weber is one tough guy, and it was apparently wondrous that the man was still standing and playing high level, physical hockey.
Now I am no medical doctor, and no one outside of the team knows the full extent of his injuries, but I think that its impossible that Weber didn't make those injuries worse by playing through them. If Weber doesn't play in the playoffs or plays just one or two rounds (up to whenever he was injured), Montreal likely doesn't reach the Final, but Weber could be playing this year.
Its a tragic story, but one that is not unique.
The NHL has a certain reputation of being the toughest sport and league in the world. People say: Basketball is basically non-contact, baseball players get carted off after stubbing their toe, soccer players flop if the wind hits them wrong, and football players wear tons more padding. Just look at this, Steven Stamkos broke his leg and tried to skate off on his own power:
What a tough guy. Nothing like those other athletes. NHL players really know how to play tough and play through the pain. But really, should they? Should we really have Shea Weber play through extraordinary pain and end his career?
I do not like the Boston Bruins, but if there is one player that does not deserve any disrespect, its Patrice Bergeron. He is one of the best two-way players in the league, and is part of one of the best lines in hockey in the Perfection Line with Brad Marchand and David Pastrnak. But it almost wasn't to be.
In 2013, during the Final against the Chicago Blackhawks, the Bruins' center played with a separated shoulder, torn muscles, a broken rib and a punctured lung. That is insane and incredibly dangerous. Bergeron is very lucky that there wasn't more serious implications for that.
Erik Karlsson was not so lucky. Karlsson is widely considered as one of the most overpaid players in the NHL but was once one of the best players in the league. He won the Norris Trophy twice as the league's best defencemen, and played some of the best hockey I think I have ever seen during the 2017 playoffs, where he was playing with two fractures in his foot.
This is my favourite assist of all time. You can have your picks, but this one's mine. His saucer pass is well over everyone's head, it goes from his own goal line to Boston's blueline without touching the ice, and lands directly on new Canadiens winger Mike Hoffman's stick, and he has an absolutely beautiful finish. And Karlsson did that while playing on one foot.
Unfortunately, Karlsson has not looked quite the same since. He has been bad and good and pretty good, but not the best player in the league, like he was during that playoff run.
And we probably will never know who else has fallen to this. But a lot of this comes down to the players themselves. I remember going to see a speaker that talked about climbing Mount Kilimanjaro. He talked about how each person on the excursion had to be very upfront about their body, and anything that might be going wrong at any time, since things can go wrong so fast, and an incapacitated member would spell the end of the expedition. There could be no heroes.
Except the NHL, not just the Montreal Canadiens, is full of heroes that don't seem to want to admit that they are hurt. And its part of the culture of being a tough guy and playing through the pain. But should it?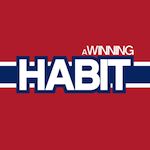 Want your voice heard? Join the A Winning Habit team!
[ad_2]

Source link