FIFA 22 Rulebreakers Team 1 Released: Everything You Need
FIFA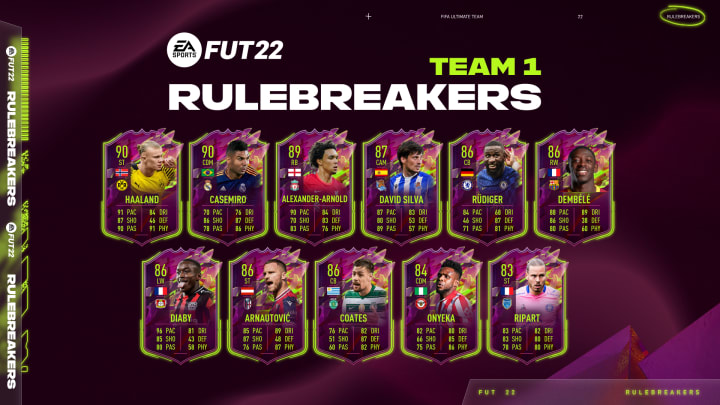 Here's everything you need to know about the Rulebreakers Team 1 release in FIFA 22. / Photo courtesy of EA Sports
Rulebreakers Team 1 has arrived in FIFA 22 Ultimate Team, with Haaland, Casemiro and Alexander-Arnold being the headlining players of the bunch.
Rulebreakers, now known traditionally as the promotion of the FIFA Ultimate Team calendar that drops towards the end of October near Halloween, officially kicked off Friday. Rulebreakers replaced the Ultimate Scream promotion and its full moon mechanic in FIFA 21 as EA Sports moved away from events associated with holidays. Likewise, FUTMAS was replaced with FUT Freeze. Rulebreakers still follow the same formula, more or less.
The Rulebreakers promotion was designed to give its included players permanent stat adjustments that transform them into entirely new kinds of stars who leave behind their usual style of play and role on the pitch to give FIFA 22 players new squad-building options.
For example, while Haaland's Rulebreakers card had his Shooting stats decreased a bit, his Passing and Physical attributes received permanent boosts.
As such, these cards are unlike those of live items, which upgrade whenever the player receives a performance-based upgrade. Those live upgrades include Team of the Week and Man of the Match items.
The first squad of Rulebreakers was released today, Oct. 29, with a second squad to coming to replace it on Friday, Nov. 5.
Here is the full squad for Rulebreakers Team 1:
Throughout the event in FIFA 22, there are, of course, Rulebreakers-themed Squad Building Challenges (e.g. Christopher Nkunku), Objectives (e.g. Antonio), Live FUT Friendlies and more to be had.