The Fans Have Spoken! Keep Calm They Say
[ad_1]

With the Montreal Canadiens sitting at the bottom of the without a single point (0-4-0), we decided to take this opportunity to take to our Twitter and conduct a poll and ask you what needs to be done. Here are the result:
45.3% of you say we just need to take a deep breath and keep the course. Despite going winless in our first four games, the consensus is that things will go back to normal sooner rather than later and we'll start climbing the standings.
Then again, 33.3% of you say it's time for a big cleanup. The rumors are already running rampant concerning the status of Marc Bergevin with the team so it's no surprise that after such a poor showing, it might not necessarily be the players' fault completely. Is Bergy becoming too much of a distraction for the team?
13.3% of you claim to be shifting their allegiance towards the Buffalo Sabres. Enjoy living in the past as you worship the likes of Gilbert Perreault, Pat LaFontaine, Alexander Mogilny and Dominik Hasek. Living in the past. Sounds familiar…
And then of course the rest, the 8%, claim we need a big trade and right away. Big trades are rarely done at the beginning of the season, but then again the Max Pacioretty trade was done at the beginning of training camp so of course, anything can happen.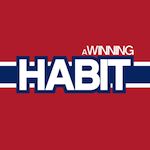 Want your voice heard? Join the A Winning Habit team!
I agree that we should be patient at the moment. The new players are still trying to adapt to a new team and system. Not to mention the defensive corp will get a major boost once Joel Edmundson returns to the team and the likes of David Savard and Chris Wideman will finally settle down and play their roles properly. Here's hoping Ben Chiarot and Jeff Petry find their legs again as well.
Criticism and panic is part of the game in any hardcore fan base. One win and we plan a parade. One loss and we're ready to clean house.
Imagine living in a small market where no one cares. We wouldn't have it any other way.
[ad_2]

Source link